The Hills Debut...What Did Ya Think?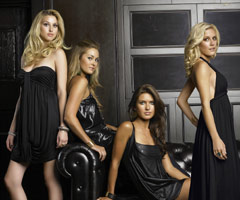 United States
March 24, 2008 10:07pm CST
Yawn...Heidi in Colorado with mom and dad and surprise...Spencer crashes the party. How tacky for Heidi to chastise him while dining with the parents. Bring in the next scene...a duet of arguing. Does anybody really care anymore after all the set up photo shoots and articles during off season?Paris...well the girls get their first stress when Colette is closed and they have no shoes for the models. At LeGrand Hotel, they have minimal time to get ready and go. Do both girls really need 20 minutes each to shower? I know I can make it snappy when I'm in a hurry. The phone call...Do you think Audrina should have called Lauren to snitch on Brody, or should she have waited? Notice we saw all those previews showing the confrontation, but alas, we have to wait to see what went down later. Boo. Well, after hearing the news, LC and Whitney decide to go out and hang with the band boys. What did you think of Matthias? I thought he was cute, but hated the really skinny black jeans. Did the Eiffel Tower make you want to book a trip to France? I have this place on my wishlist. Lauren places her extremely expensive dress on a hot curling iron. The replacement dress is much prettier! Note: Ever notice that Whitney has to say something negative and then try to do damage control? Not a good quality. She is a good person though. How about the Vespa ride? A beautiful dress, a helmet, and the dress wrapped around Lauren like a diaper...priceless. So, what did ya think?
4 responses

• United States
1 Apr 08
I was a little disappointed by the Hills Debut it had too many boring moments for me. I'm glad they are keeping the coverage in Paris down to one episode. I did not like the guys from the guitar band and that one guy looked way too old for Lauren. It was funny to see both guys fighting over her though. I thought the Spencer/Heidi interaction was interesting though. It's about time Heidi gets a backbone and finally stands up to Spencer although I don't think it will last based on the previews. Spencer is a jerk and even his sister is starting to admit it. I think that Heidi and Audrina will become friends so that will be interesting too seing Audrina torn between her friendships with Heidi and Lauren. I think Heidi is using Audrina but Audrina apparently needs to learn that on her own. I can't wait to see Lauren confront Brody about his new relationship and I can't wait to see what will happen between Lauren & Stephen.

• United States
31 Mar 08
I love the Hills, don't get me wrong, but can we say AKWARD!! The whole episode had very akward moments. The whole time Spencer was in Colorado had to be the worst. And then what about the way that guy M, something or another, kept staring at Lauren at the table. I of course can't wait to see what happens tonight, but I hope things become a little less akward.

• United States
1 Apr 08
I know what you mean about awkward...and the Heidi spence drama is so last year...boooring. Matthais is the guy in France that stared at LC a lot. It think the other guy that was their escort was the creepiest of all. He was all up in her personal space...I would have smacked him!

• United States
25 Mar 08
I love The Hills!!! I was so upset when Brodie did that to Lauren.. I thought they were going to be the super couple... Although as you say riding on the back of a Vespa in a Gown was priceless... As for Spencer and Heidi, they need to let go and leave each other alone.. I have never liked Spencer..LOL!!! And it looks like Audrena and Heidi will soon become great friends again... I think Lauren needs to move in by herself away from them across town or something to discover what will really make her happy, instead of all that negativity.. Well im in for the long haul in the season... Happy Watching!!!

• United States
25 Mar 08
I love the show too. Lauren has an endearing quality that makes one wish to see her happy and treated well. As for Spencer and Heidi, I don't like either of them. They both seem selfish, miserable and are always looking for an opportunity get get publicity. Quality stars don't call paparazzi to photograph them in staged scenarios. It looks as though we are in for much drama this season.

• United States
11 May 08
I absolutely love this show don't get me wrong but sometimes I just think these people are ridiculous lol, they really need to grow up. They are in their 20's and still continue to act like they are in high school. The whole Colorado scene where Heidi decides to take a break from him, FUNNY! Because first of all Heidi went there to clear her mind and get away from Spencer but of course he has to ruin it. It was such a dumb thing to do to fly all the way there to see her because she wasn't answering her phone. Who flies that far just to see someone because they didn't answer your call? I would probably be the same way towards Spencer if I was in Heidi's situation but she didn't have to do it in front of the family at dinner, how awkward is that? When the girl's were in Paris I didn't really like it, kind of boring. They are both a little ridiculous if you ask me lol. But I don't know if Audrina should have called Lauren about Brody on her trip to Paris, that would ruin it for me. Them hanging out with the guys from the band probably made her feel a lot better though.