Photography in the bedroom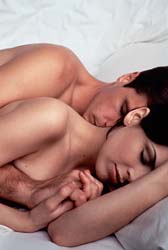 Canada
March 25, 2008 7:39am CST
My lover and I have talked about taking pictures in the bedroom before. But like a lot of things we've talked about doing, we never seem to get around to it.

Last night, he thought to bring his camera upstairs, and took a few pictures of a few things. I only saw one of the pictures he took, and probably don't want to see the others.... I'll wait until some other time and get my own pictures on my own camera.

Have you ever taken pictures with a lover in the bedroom? What did you do with the pictures? Did you share them with anyone else? Did you delete them right away? Did you print them out? What kind of pictures did you get? Action shots? Poses? Clothes on? Clothes off? Have you taken sexy pictures to give to your lover as a gift?
8 responses

• China
25 Mar 08
though i donot have a lover,i really want to have a try.and if you and your lover believe each other,you will not mind doing so.in contrast,that may improve your relationship.and the picture you send to your lover represents your deep love.and then,you can have a better life with lover.in sum,enjoy your life!i send you my best wishes.

• Canada
25 Mar 08
The trust is there, so it wasn't an issue to have some pictures. I don't think of it as something to improve our relationship... it was just something to do for fun. :)

• China
26 Mar 08
lol.trust is just trust ,and fun just fun.what i want to say is how to enjoy life.because you have fun in doing that,and it is not necessary to care about reasons.after all,fun is the point and what we do all is to enjoyourselves or to give fun to our lovers.isn't it?

• Canada
27 Mar 08
It sure is! It was all in good (not so clean? lol) fun. :D

• United States
25 Mar 08
I must say that I've never taken pictures, but have had them taken of me. I didnt know they were taken at first either, my husband had used his camera phone. I didnt realize he was taking them until he took the last pic and I saw. Needless to say I didnt exectly have any clothes on either. lol. I ended up deleting them off his phone for fear someone would get it and see them.

• Canada
25 Mar 08
I can understand that fear, especially when the pictures were on a cellphone.

•
26 Mar 08
I love the idea of it, but have never tried it out. Partly because I have no idea what I would do with them. What do you do with the shots afterwards. You could put them in an album I suppose. "Hello Aunty. This is Flossie and me making the dog with two backs. No that's not fuzzy, it is fuzz". Can't see it somehow. Put it on the computer. "No dear, that's Daddy's joystick not a new one for the XBox". Sell them to Reader's Wives. Yuk. Too sordid. So what will you do with them?

• Canada
26 Mar 08
I don't have any photos... yet. I have no idea what the Sausage Man is going to do with them. I never asked. I trust him, and am not worried (although he did tease about putting them on facebook and tagging me... then I reminded him I'd tag him right back lmao). When I get my own pics, I will likely save them in a special file that's locked (I'll ask the sausage man how to do that), and eventually burn them onto a cd, once there are enough to warrant that. Actually... cd's are cheap... so I wouldn't have to store them on the computer. I'd keep the burned cds in drawer with my toys. As for printing them out, maybe. But I need a new ink cartridges for my printer before I can do that. I think I'd make an album out of them as well... only I'd keep it in the toy drawer so I don't accidentally leave it behind for strangers to find like SOMEONE we know did.


•
26 Mar 08
Now that would make Facebook interesting. How many word scores would you get from the comments that little lot would elicit I wonder. So long as you don't expect ALL your friends to reciprocate. Toy drawer sounds a wise stashing place. But don't leave them behind. LOL.

• Canada
26 Mar 08
Oh, I'm sure there are facebook profiles with all sorts of interesting photos like that. However, mine will not be one of them.

• Spain
6 Apr 08
We have taken pictures and I have taken steamy pictures for hubby for his birthday I think that is fine as long as both of you are willing and ok with it. Hubby stores them on his laptop and no one else ever looks at that, i wouldnt want them on the main PC as the kids are always on that!

• Canada
7 Apr 08
I now have pictures of my own, and got his copies as well. All are on my laptop in files marked XXX, etc. lol. I realized today that my camera was set on the lowest quality for pictures, so I've adjusted that, and should get some much better pictures next time.

• United States
28 Mar 08
we take pictures all the time.. its normal.. dont worry just do it its fun.. i love takeing pictures.. it just makes the realtionship more exciting.

• Canada
28 Mar 08
I find it very exciting as well, and am looking forward to getting more pictures of my own. :D

• Australia
26 Mar 08
Me and hubby have never taken photo's of us naked etc. We aren't into that thing and don't think we will ever be. But that is just me. We don't mind other people doing it though, but we have seen naked pics of my sil and partner

• Canada
26 Mar 08
Not everyone is comfortable doing that sort of thing, and there's nothing wrong with that. As long as both parties are good with whatever decision is made (to take the photos, or to not take photos), that's what's important.

• United States
26 Mar 08
I had a punk rock girlfriend when I was pretty rock n roll myself, and we were absolutely crazy. among other things we had a film student make a movie, it was hot but I think she just liked looking at herself. as for pictures there were all sorts of soft core stuff as well as xxx rated. she would go off with her female freinds and have a field day. I saw hardly any of them as she was scared they might get around. the film, pics and everything else I have no idea what happened to them. I guess I can't run for office...

• Canada
26 Mar 08
haha... well, if you really want to know what happened to them, then running for office would be the best way to get them to show up again, wouldn't it? LMAO!!!

• India
26 Mar 08
use cam in bedroom if she is ur girlfriend...and not if she is ur wife

• Canada
26 Mar 08
Why not take pictures in the bedroom with a spouse? I would hope that the trust would be even more solid. And it could certainly spice things up a bit.