Domesticate wild animals??

United States
March 25, 2008 3:10pm CST
If you could domesticate any wild animal, what animal would it be and why? I would say a lion....or maybe even a giraffe. I say a lion because, I love cats and I think that big cats are such beautiful creatures. As for the giraffe, how awesome would it be to have a pet giraffe to ride around town on..lol So what animal would it be for you and why?
3 responses

• United States
25 Mar 08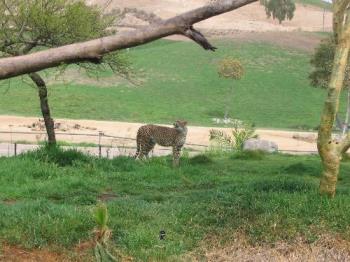 I think a Cheetah, which is actually doable. They are one of two big cats that can actually be Domesticated. I love their speed, and I have always been a fan of the Cheetah for some reason. I love all cats big and small, but of the large cats the cheetah is my favorite. During the 1800s royalty used to domesticated Cheetahs and train them. They used much in the same way people using hunting dogs today. They used to ride out on horses to the hunting area and then they royalty would let them loose to find a specific prey. I always thought that was cool.

• United Kingdom
25 Mar 08
Well I think you'd know my answer from my avatar name! I would love to domesticate a wolf! That would be good, he would be my friend, my companion and my guard dog all rolled in one. I think wolfs are underestimated and beautiful creatures, imagine if I went around the town with a wolf on my lead, that would certainly get some looks and no one would try to mug me or give me problems! I love your pet giraffe, what would you call him?

• United States
25 Mar 08
You are correct, if you had a wolf as your friend and leading you through town, I am sure no one would try to mug you or give you any problems at all. You would probably just have a lot of people wanting to take pictures of you and your wolf. I am sure I would be one of those people, they are beautiful creatures also! As for my giraffe, humm, I guess I didn't think of a name, maybe I would call him Liam..only because that is a boys name I really like and since I am not having anymore children I will have to use it as a pets name..lol Thanks for the response. Have a great day!

• United States
25 Mar 08
I've always wanted a black panther. I think it's because I like cats, but not all cats, just big cats. They are so dark and mysterious and beautiful. I love the way the walk around. If I ever get the chance, I will own one and it will sleep at the foot of my bed.