Does your Cat Talk Alot for No Reason?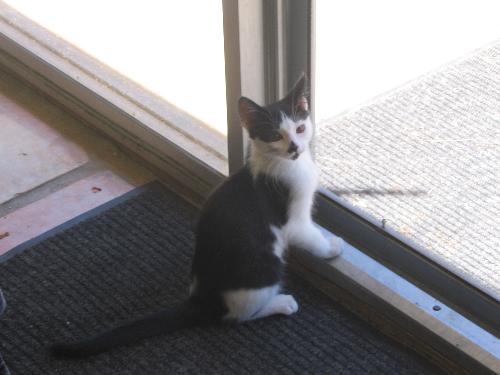 United States
March 25, 2008 3:10pm CST
My little cat, Carlye, talks a lot for seemingly no reason. She doesn't need or want anything, she just meows. I have wondered if she thinks she is human and is carrying on a conversation with me. She mainly talks in the morning as if she is telling me how her night went. Sometimes she is so noisy that she bothers my husband who sometimes sleeps later then I do. Does your cat talk alot? What do you think it means?
6 responses

• United States
26 Mar 08
Aww--Carlye is adorable Aurone...I have fairly quiet kitties, but then maybe cause I'm relatively quiet myself...Pyewacket is definitely quiet, but he does make his presence known and is a real ham..seems he doesn't like it when I talk on the phone to someone and has to come racing over with an attitude like "How dare you talk to someone else?" And butts his head on the receiver so hard I nearly drop it...LOL..can't stand when I talk or pay attention to my other cat, Kissy either...Now Kissy is more verbal...I could be sitting here at the computer and all of a sudden I guess she figures, "Okay mom, enough typing at that thing...pay attention to me." and will meow a lot I don't think your Carlye talking a lot really means anything "drastic" just that she's happy to see her "mom" and wants to tell you what's going on in her meowy life..hehe--think it's sweet!


• United States
26 Mar 08
Mine doesn't really talk all that much unless I am gone for the weekend or something then she'll say hello or good morning. My brother's cat likes to talk at night when he's trying to sleep.

• United States
26 Mar 08
My boy Nemo is a talker. He is a tattle tale when one of the other cats do something that they are not supposed to. He comes in reowing and telling me all kinds of stories. When someone isnt home, he isnt happy because he doesnt have track of all his people. He wanders restlessly through the house yeowling until everyones home again. When he "catches" a toy mouse he announces it to everyone and the other cats just look at him like "Shut up!"

• United States
25 Mar 08
One of mine "talks" nearly all the time. Chatty little beastie. She will wake up from a sound sleep jabbering about something.....a dream maybe. She has kind of a deep voice so it is quite comical sometimes. Well, this is because she is half siamese and half calico. She has the siamese voice.

•
25 Mar 08
What a cute little kitty, she is gorgeous. I think that it is a cats way of communicating, all mine talked to me and I had 3 at one point! One had a bit more trouble though because he could not meow, and just made a funny little noise. But they do talk to you and eventually you will know what she is saying!!

• United States
28 Mar 08
one of mine does-he has to "sing" about everything. he sings when the sun comes up. when he is happy. when he can't find anyone in the house. while playing with toys. not a meow,but a string of them. funny thing is,her sister is almost always silent. we didn't even think she meowed at all until she finally said something one day.