What camera do you have and what pictures do you take?

Cambridge, England
October 31, 2006 9:27am CST
I have a Fuji Finepix S7000, an Olympus Camedia C-2040 Zoom (my first digital - I still like it, though it's only 3.1Mp) and a Nikon Coolpix 775 (nice for the pocket and one that I lend to my kids because it's easy to use and not a big disaster if it gets damaged or lost!) I like to take closeups of flowers, landscapes, architecture and sometimes portraits.
6 responses

• United States
24 Nov 06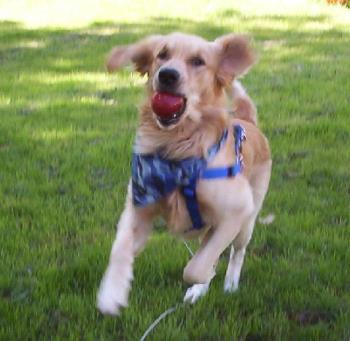 Mine is a Kodak EasyShare. I really enjoy taking pictures, editing them with the pictures with my PictureIt! Program, adding them to my Webshots Program so that I have a photo album on my desktop. My favorites include animals, flower close-ups, landscapes, babies.. nature, in general. Here is one of my favorite action shots of my goldie, Sunny~

• Cambridge, England
28 Nov 06
I like your dog. A good action shot.

• India
5 Mar 07
I have a Sony DCR-DVD905/E which is camcorder that gets good enough still pictures. I thought at first that I would use it more for vidography, but now I am slowly discovering the pleasure of taking more and more still pictures with that, especially using zoom.

• United States
4 Mar 07
I got my first digital camera about a year ago. I can't believe we waited so long! They are so wonderful! We have a Sony Cybershot with a Carl Zeiss lens and it is wonderful. It is not the most expensive, nor the cheapest...we bought it for about $250 on sale. But it takes really good pictures. I've used it to photograph wedding cakes, family, things I've painted and my husband uses it to photo things he puts on ebay...an all-around good quality camera.

• Malaysia
25 Nov 06
i use a Canon EOS Rebel T2 35mm SLR Autofocus Camera Kit with Canon 28-90mm f/4-5.6 EF III Lens - 9426A002 w/ FREE UPS.. it just to take pics in any place.. :)

• United States
31 Oct 06

• Cambridge, England
31 Oct 06
I also love my Olympus. It fits in the hand nicely, has sensible controls with the possibility to use manual settings yet gives me brilliant shots with the automatic settings!