Men or women which are mosre unfaithful?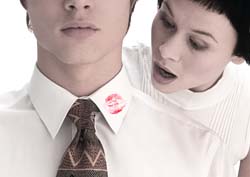 India
March 27, 2008 2:32pm CST
I am realy confused and out of logic in this matter. The mass view may be men are more unfaithful and have more outward nature. Apparently it is true. I also indirectly experienced this thing in my friend circle. (hey not me ok. I am engaged since 5 and half years) But recently women are not behind it any more. And they are producing very much killing blows also. I cannot find any logic or equation behind it. All those life mathematicians, have you got any answer of this?
3 responses

• United States
27 Mar 08
It used to be men who were more the unfaithful ones but I think it is now the woman. They even have a website for married woman who want to cheat. I think cheating is stupid, if you do not want to be monogamous then dont get married. If you marry some one and then cheat you are not only a cheater you are also a liar, a manipulator,a bad parent and selfish and in some cases a murderer because you can bring a disease home and kill your spouse. STUPID. All for what, something you could have gotten at home.

• India
27 Mar 08
i think you are absolutely right. this hipocrisy is not needed in this beautiful world.

• India
27 Mar 08
No woman are more unfaithful. They are more opportunist.

• United States
27 Mar 08
I think it's the same... Both men and women average out the same.. Women and Men I think are equal in that department.. However that is just my thought on the subject.. If two people aren't happy in a relationship I think they are BOTH going to go different ways to make them selfs happy...