The first tantrum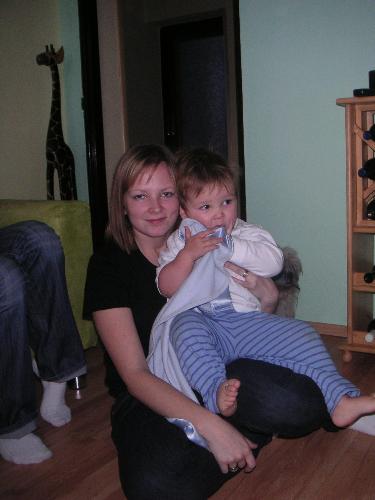 March 27, 2008 3:53pm CST
My baby son is 18 months old. I used to say he is having little tantrum now and then when he was angry, but now i know those weren`t a real tantrums. I have just come home from holiday (visiting my parents) with my little one by myself. I was on the airport in the waiting hall waiting to board the plane, with all the other 200hundred people. There were quite a lot of kids on that flight, around 10 little ones, around the same age as my boy. My little one was quite tired as it was his nap time, so i was going to give him some lunch and hoping he would have a good sleep on the plane. What happened then i dont know, but i was very embarrased. He chose to have a fruit puree and when i tried to give him a full spoon he started to scream like never before, then he threw himself on the floor and everyone was looking at me at that point. So i was trying to pick him but it got even worse, he was screaming more and crying and trying to tell me something i didnt have a clue and then he was again on the floor. I found myself not knowing what to do with all those people staring at me thinking probably "shut that baby up". It was so embarrasing, seemed it last forever. After like 3 minutes I picked him up screaming from the floor and carried him around the hall pointing at all different things just to set his mind on something else. After he fell asleep on the plane a was thinking how i didnt know how to handle the situation. How hard it is to ignore him when a lot of people is staring at you. What do you do with tantrums like that?
8 responses


•
27 Mar 08
I know normally i would ignore everyone, thats what i have been doing since my baby was born, because the tantrum happened unexpectedly i just felt that pressure and saw people faces. Maybe they just felt sorry for me and not being judgemental, i dont know, but it wasnt a nice feeling.

• Philippines
28 Mar 08
Hi chestyna...

Ahhh....the tantrum days. I remember when my son turned two, the slightest thing sets him off. Not only will he scream but he does it with kicking his legs in the air. The first time he did it, I was also clueless on what was happening to him. I tried pacifying him, telling him to stop in a stern and firm voice, ignoring him for awhile. Actually, it was an experimental stage for me. I had to observe what method I did that actually worked when he's in his tantrum mode. I discovered this when we were at the mall. He did a major tantrum when we were about to leave the playground. He screamed, he cried while lying on the floor, kicking his legs. People were looking at us. Some were frowning at me, some looked with pity and some people were looking at me as if like what you've felt, as if telling me to do something so my son will stop. Honestly, I wanted to scream at my son to stop. But I knew that screaming at him won't resolve the situation. So, I picked him up from the floor, and tried my best to carry him in my arms because he was struggling so hard. Not to mention he was also busy yanking my hair from its roots!

And that hurt a lot[em] wink[/em] As I walked away from the eyes of those people, I tried to pacify my son by making a shussing sound close to his ear. And it worked!He gradually ceased struggling and pulling my hair. And finally, he calmed down and just hugged on to me. Tantrum periods will surely test your patience. And you need to take a lot of deep breaths to keep your cool. Just always remember that whenever your child is having periods like that, it helps to help calm him. I've read that most kids who tantrums are afraid of what they're feeling. They can't understand why and it surely doesn't help them if we yell back at them. This only worsens the situation.

•
28 Mar 08
Hi there, thank you very much for your response, it was nice to read your story and it does help a lot when people give you their opinion. We have just moved to a different country so I dont know anyone here and dont have anyone to ask. I can spend hours on the phone with my mum, and altough she is trying to help me, she is old school and that doesnt work for me. So thanks a lot for your advice and take care yourself.

• Philippines
13 Apr 08
Your welcome.

The tantrum periods will be so challenging that sometimes you just want to pull your hair from frustration. Especially when your child goes into tantrum and you're in a not so good mood. Very hard to keep your cool. But then, I'm sure in time you'll find the ways to adjust when the tantrums start. Just don't forget to breathe deeply.


• United States
28 Mar 08
when i went to drop my two year old and my wife to the airport, my kid was very sleepy but just couldnt go off to sleep. the regular tantrums that she throws at home, so i got her a candy.. just then they called out for security clearance so my wife took the baby from me who started crying when she realized that i was not accomanying them. for the security clearance they asked my wife to take the candy from the baby and put in the tray and also her favorite shoes and socks...(i understand the process i am just trying to tell you what the baby must be feeling!!)That was the time when the baby was uncontrollable.. as it was geting late, my wife somehow managed to take the howling baby. it was about half an hour of crying later when the airplane took off that she finally went off to sleep and all was well.. i recently went to india to bring them back and we travelled together - my wife, baby, and I and it was a great journey.. i can understand your situation. just hope that it would be a one time thing.

• United States
28 Mar 08
One of my daughters used to fall to the floor and bang her head on the floor. She had a bruise on her forehead which I was thinking I was going to have to put a helmet on her. I finally talked to the doctor because I was sure something was wrong. He asked me what I did when she started this. I told him of course I picked her up. He said stop. It was awful I had to let her throw her trantrums and not do anything. The first time she did it and I didn't move to pick her up she looked at me as if I was crazy for letting her continue. It only took a few more and she stopped. So ignoring them and knowing that all mom's have been in this spot so when they are staring they are just remembering their dealings with 2 year olds. Not to worry this too shall pass. Good luck!

• United States
27 Mar 08
Times like that are hard to go through.Everyone handles their kids in a different way.I try to be calm with my kids.As you know by now every kid will see how far they can push you.Just don't give in to what everyone wants you to do about your son.Do what you feel is the best for you and him at the moment.Let people think what they will.After a fight like that though once I get my kids home I give them a stern talking to and take away tv or a certain toy.Your son is still very young and in time you will learn new tricks on to how to handle him better.Better days are ahead.Good luck.

•
27 Mar 08
I remember reading a lot about tantrums and i thought after reading that many books i would be prepared once it happens to me. But i wasn`t....thats why, i guess, i didnt know what to do. And I didn`t expect him to have tantrums that soon, or maybe i was hoping he won`t have them at all. anyway, thanks for your response i am sure it will get better. good luck to you too.

•
27 Mar 08
I ignore it, I dont care what others think to be honest what ever they might think is their problem not mine. I refuse to give in to my childs tantrums simply to appease other people, and you know the people who bug me first are the ones who come up and say aww would they like a sweet, err no they damn well dont they dont deserve one for behaving like that thing is it then makes things a 100 times worse because they then tantrum over the lost sweet. Im sure people think many times why cant I just shut her up but well tough short of taping her mouth shut she will only stop when good and ready and il not give in im good at tuning it out now. SHe is worse at the hospital she hates seeing me get needles and blood [pressure tests so she screams everyone stares at her but nothing I can do, she also screams in the lift so would I though if I was sat in a buggy and some man come and stood so close his bum was in my face id scream too!

• Garden Grove, California
28 Mar 08
Ignore him but do not let him hurt himself He is coming up onto the terrible twos a bit early but its only a phase and he will be sweet as sugar byage three. He is just at the stage where he does not know quite how to tell you whats bothering him and so he gets all angry and upset.He wasprobably just completely worn out and just could not tellyou. It will pass.

• United States
28 Mar 08
When you're at home or someplace private, you can just ignore him when he acts like that. It used to work well on my kids - when they realized that the tantrum wasn't getting them anywhere they would quit. It's much harder when you're in a public place, but the best thing you can do is pick them up and remove them from the situation. Mine had a tantrum in the grocery store once and I just picked him up and carried him immediately out to the car. Don't worry too much about what other people think. If they are a parent, they'll understand, they've all probably been throught it at least once.