do you take hand purse while you are going to shopping?

Anantapur, India
March 27, 2008 7:01pm CST
Hello friends, Usually every one takes purse while going to shopping so what about you, do you take purse while you are going to shopping because most of the people take debit and credit cards so they won't be bring purse so what about you did you take purse or instead of purse you take debit to buy different items so which one is best to visit shop.
3 responses

• Australia
31 Mar 08
I take my handbag everywhere i go. In it is my purse, water bottle, diary, phone, lipgloss, panadol, tissues and keys ... all the essential things I need when leaving the house.

• Philippines
30 Mar 08
I don't use purse actually when I'm going out. It's too dangerous for me to get it lost hehehe.. I'm a very forgetful person so I don't carry small stuff usually. Anyway, I'm into huge bags because I'm tall and I feel like I look awkward using a small one.

• United States
28 Mar 08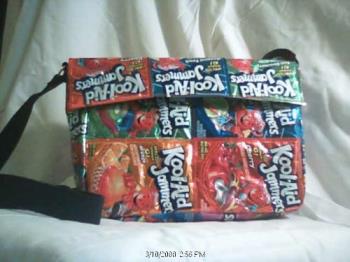 I try not to tote around a handbag or purse. I like to walk with my messenger bag. It is over my shoulder and it it great for when I have my water bottle. I don't have to carry it in my hand. I have my card in it or in my coat pocket. The nice part is it's one I make for my self. Also some of the school kids have the bigger one.