School bully.. who protects the other children?

United States
March 27, 2008 8:53pm CST
We had an situation the other day where a girl we will call her Sally attacked a gril we will call Jane. I witnessed the whole thing. Jane was getting off the bus and Sally reached out and grabbed Jane's hair yanking her head back then Sally took a swing at Jane. Jane was caught off guard you could clearly see it and swung back to protect herself from the second blow that was coming. Jane's mom called the school today and was told that since it was a fight that if they punished Sally they would have to punish Jane. So Sally got off. Now this isn't the first time that Sally has gotten away with this. As I said I saw the whole thing happen and it seems the only adult that did. I do not think that a child should be punished for defending herself. I should also have to say I do not believe in hitting however I know the girl was caught off guard and I am sure was scared as to what was going to happen. To top it off a mom stopped me tonight at the bus stop to find out why Sally's mom asked Sally "well did you get in trouble?" Sally said "no" then her mom said "you should have knocked that white B(she said the word) out." So now Sally will go around thinking she can do it to anyone. That puts my daughters at risk so when I call the school tomorrow what should I say? Is there someone over the school I can report this to? I want my bases covered cause I believe Sally should be punished or it is teaching children you can beat up anyone and you won't get in trouble if they defend themselves.
5 responses

• Garden Grove, California
28 Mar 08
I do not think that Sally should get away with this bullying and her mom does not sound very helpful.Ithink she should be reported to the school principle and be punished accordingly for she will just get more and more vicious unless stopped.

• United States
28 Mar 08
She was reported but he said he couldn't punish her without punishing the one attacked cause she defended herself. The report came from Jane's mom but I am going to report it now too since I saw it all and it wasn't my child. They better listen to me or I will show up at their office.

• United States
28 Mar 08
I think the two posters above have the right idea. I just think it is truly wrong for a person who is being beaten up to get in trouble for the wrong the attacker. What is the child being attacked just supposed to just take it and do nothing for fear of getting repremanded for defending themselves.

• United States
28 Mar 08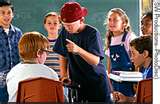 You should tell the principle EXACTLY as you told it here and no different. Tell him/her exactly how you saw it and how you feel that the other girl should not be punished because it was clear that she was surprised. They need to hear it from a witness which is YOU. Please don't hesitate. We need people like you who are real and all for the right to defend the defenseless.

• United States
28 Mar 08
A couple of years ago we had the same type of problem with my nephew. I bigger child thought for some reason that it would be alright to hit my nephew. Just before that boy could hit y nephew I came walking up. I called my nephews school the next day to report this incident to the principal. The principal informed me that the incident happened after school hours as well as off of schools property so there isn't anything that he could do about it. I decided to call the police to see what I could have done. For a few weeks the local police department posted a police officer at the bus stop as well as sent a couple of officer over to the boys house to speak to the parents. If I was you I would speak to Junes mother to see about her pressing charges against Sally. Maybe by having Sally arrested she might be able to get the help she needs since her mother is lacking in parental skills.

• United States
28 Mar 08
The mother did report it however since we live within the boundaries of a reservation and Sally is native there is nothing that can be done legally to her. Sad but true. She has been reported many times but the council refuses to do anything to her. I know the county sheriff is frustrated with her but his hands are tied.

• United States
28 Mar 08
I would go to the superindendant of the school. If I got no one to listen there, I would contact an advocate. There is no sense in it. They have to be aware of what is going on at the school level. I would not stop until someone took action.