Ants!! Help!!

United States
March 28, 2008 9:58am CST
I am just now getting ants in my house. I had a problem with them this time last year too and nothing seemed to help. I have bought ant baits but they do not seem to be doing the trick.I read somewhere that you can use vinegar to repel them but I want to kill them. I just cannot stand how they come in and invade everything, I find them a lot in my kitchen and even crawling all over my fridge. I keep a very clean house so I don't think that this is the problem. Anyone have any advice?
8 responses

• United States
28 Mar 08
Sugar poured outside, at the door, usually keeps them out of the house. Of course, if the sugar is washed away, you have to do it again. It always worked for us. The idea came from an older woman who had kept sugar at her doorstep whenever she had the problem. I tried it and it seemed to work for me.

• United States
28 Mar 08
If I can find out where they are coming in from, I will give it a try. Thanks.

• United States
28 Mar 08
I had this problem in Miami and it gets aggravating. I was readin here in the frugal section about cornmeal. Pout some around your house they will eat it and travel it back to the nest and die. I had to put plastic sandwich bag on the feet of my table. Then take tops off jars to keep water in them. It would at least keep them off my table. I even bought a bag of sugar to place across the street from me and that helped for a while. They would go after that sugar and I would drown them with boiling water. try the cornmeal as that works so I read here on mylot.

• United States
28 Mar 08
Thank you I have never heard of this but I will be giving it a try. Anything is worth trying right now. thanks again.

• United States
12 Apr 08
Did any of those suggestions work for you? I just started getting ants in my kitchen yesterday. I guess we all have different kinds of ants too. Mine are pretty big and black and they go after the sweet stuff. I tried cinnamon last year and it didn't seem to work for me. Only if I poured a ton of it on top of an ant! Someone said cucumber peels scare them away, but I just wound up with dried up cucumber peels stuck to my floor and the ants were still around. When they are in the sink, dishwashing liquid kills them. But if I kill a bunch of them I look a minute later and all their friends came!

• United States
29 Mar 08
oil of tansy works pretty well on black ants in particular..but one of the things i've found works best for me is spraying the foundation line outside with ace hardware's version of raid. i transfered all the stuff like cereal and flour into tupperware from the box also and that cut down them invading quite a bit.

• China
29 Mar 08
Hello dear barbiegirl. I used to have the invasion of ants as well long time ago. It is usually caused by some sweet things, like white sugar falling onto the ground, that cause them to come into the house. Have you ever checked about this to make sure that they will be gone if the floor is mopped again with no more sweet flavor on the floor? Thanks.

• India
29 Mar 08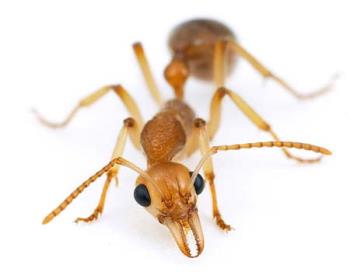 There are a few things you can try... Put chilli powder down round the outside of your house as the ants won't cross it. Have a look for the nest and pour boiling water on it kill all the ants. Put a jar outside with a little honey in it.They'll be 2busy with that to come in!You can also mop the floor with about half liter of water mixed with two to three drops of lavender essential oil. That will keep away ants away too. If ants enter the house from the windows, use chalk around the window frame. You will be amazed to see how they move away from any chalk lines!

•
29 Mar 08
I tend to get them in my house too. When I see them I squash them and them throughly clean that area just in case there was something sticky that they were attracted to. If I can find the nest outside I tend to pour boiling water over it to kill them as I have children so cannot put poisn down. Another thing they do not like is talcum powder as it sticks to their feet.

• United States
29 Mar 08
sprinkle cornmeal near wher you see them. The ants can't digest it. They take it to the hive and it kills the hive! takes 3-5 days!