Old Favorite Game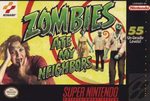 United States
March 28, 2008 4:04pm CST
I just saw this add for a game that I used to really enjoy playing -so much so that I've got the urge to get it out and hook up my old Sega Genesis so that I can play it. It is called Zombies Ate My Neighbors, and a very funny game. I never completed the entire game but I'm wondering if I were to redouble my efforts could I achieve success.

This version that they have up for bids on ebay is for the Super Nintendo so you can imagine how far back it goes. Do you ever get the urge to get out an old gaming system and enjoy it once again?
8 responses

•
30 Mar 08
So have you looked it out yet sweety? I do understand what you mean - our old nintendo 64 is still in a cupboard but when we bring it out to try and play our favourite Mario game from that time the kids just laugh and tell us to send it to a museum! lol xxx

• United States
30 Mar 08
I have not gotten around to it yet, mummymo, because I've been a bit under the weather for the past couple of days, but as soon as I'm feeling up to it I will be getting it out.


• Canada
29 Mar 08
we really don't have any old gaming systems here, either they didn't work anymore or we gave them away with we upgraded. But I am not a big game player online anyway, I just play scrabble online and that is it.

• United States
30 Mar 08
To each his/her own, winterose.


• United States
30 Mar 08
I get so caught up playing games sometimes, gabs, that I have to stop and think whether it's healthy for me.


• United States
30 Mar 08
We have an old Nintendo game system downstairs in our family room but it's been unhooked for a long time. I have thought about hooking it back up again and playing the Pinball game. I played for hours with our kids when they were younger. It was so much fun on the weekends to stay home and play that game. It was before they could drive or had boyfriends...lol I spend time playing on Pogo online and that seems to satisfy my gaming needs for now. The jackpots offered make it very tempting to spend way too much time piddling on the site.

• United States
30 Mar 08
I recently left Pogo, carolbee, and am now trying out Real Arcade. Maybe if I get one of my old game systems up and running I will stop all online gaming.


• United States
28 Mar 08


This used to be one of my favorite Sega Genesis games too and I never got to finish it either. I think by now if you got it you probably would. Let me know if you do! I bought a very old Atari a few years back and it still works

and I still enjoy playing the couple of my favorite games that I have for it.

• United States
29 Mar 08
I am the proud owner of a collection of old video games, ctry.

My first experience with gaming came about when my ex brought an Atari to the house one day. I really loved that old Atari and had to be dragged kicking and screaming into the Nintendo Age. I will keep you posted on my progress!

• United States
2 May 08
Yep, and all the time. I'm glad I have the systems and plenty of games for old times sake. In actuality, I miss the Japan Only games (for SNES, Sega, NES) that I have, few as they are.

• United States
2 May 08
I haven't played the Genesis version, but I have the Super Nintendo version. Yeah, it's a tough game. I've never been able to beat it without a Game Genie. The last boss is really tough! I've read that if you can play through the game in one sitting and have lots of items at the end, he's easier. I have all my old systems hooked up too.