Why not commit suicide?

Philippines
10 responses

• United States
31 Oct 06
Because you are not the only one who feels down...its tough for everybody these days. Things eventually get better. Try to see the good in your life, the beauty that surrounds you everyday, when I have been down and I have felt most lonely and don't have any money to hire a therapist, I bought a book that dealt with whatever issue I was dealing or not dealing with...A book that saved my life is called "Happiness is a choice"...Happiness is a choice you can be happy this very instant. Everything is based on what your beliefs are currently and your attitude in your life. Please cheer up:) YOU ARE NOT ALONE... I am here for you.


• United States
31 Oct 06
Cause no matter how bad it is it will get better

• India
31 Oct 06
why not try to live rather than doing something which u dont know living is something we know ,something in our hand why trying to do something thats going to hurt u and most importantly its something we dont know no one knows how painful its going to be god has given us a chance try use ur guts in living rather than using it for dying a unknowm painful thing ..... as long as u live make urself importanat to others make others happy which will surely bring u happiness and a thirst for living TRY THIS ALL THE BEST


• India
31 Oct 06
Go do it.. If that is what you want.. Why do you want to discuss on that ? But what is the reason for that ? Is your girlfriend cheating you ?? I am sure you should not die for someone you did nt care for you .. Did you lose your job???? well.. There are lot many other companies ... then what else is the reason?? Whatever it is .. I wud say dear friend.. life is so very valueable .. people struggle so much for survival.. then why do you want to kill yourself?? Its a sin... Look up and be happy...

• United States
31 Oct 06
Sueside is not the way to deal with your issues. You need to take a step back and look arround you. Get things in order, and deal with them 1 at a time. By ending your life you are saying you are a quitter and your issues have won. You need to stand up and say "You will not get the better of me, I am g oing to run my life whthere you like it or not"

• India
31 Oct 06
life is full of opportunities,happiness,troubles n wat not..if god gives us happiness he has to give us some sad moments as well.thats d reason v r human beings so that v can take things positively n fight each n every moment bravely..

• Canada
31 Oct 06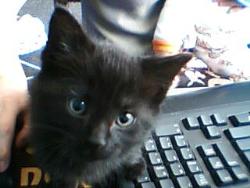 Every one has those thought and feelings sometimes, for me I try to focouse o the people who need me