My search Fund question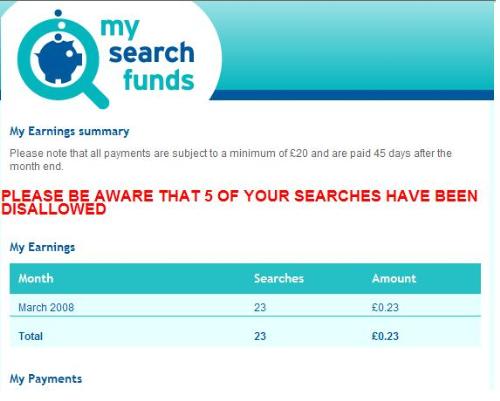 India
4 responses

• India
31 Mar 08
just check out your e-mail they must have send you a score that is calculated through their program.If that score is not around 100 may be exceeding too much they disallow some of your searches.I also wanted to make quick money and searched for too many things and some of my searches were disallowed.


• United States
31 Mar 08
I don't think I've ever had any of mine 'disallowed'. I use it like any other search engine, just search normally like I would on any given day. You must have done something to set it off. Not saying you did anything wrong, but it had to be enough to trigger something in whatever system they have set up. Go back and read the TOS and see if it tells you anything.

•
31 Mar 08
I don't know this program personally but I seem to recall seeing a post somewhre that said they take a judgement if you were 'really' searching for a genuine query or if it seemed your search was generated purely for the purpose of earning. I don't know how they judge this so it sems people working hard at it are at their mercy or discretion as to whether they get paid?