the biter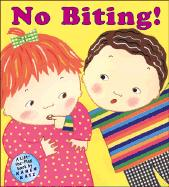 United States
March 31, 2008 9:19pm CST
So my youngest son is a year and a half. I never had a problem with my oldest who is 3. My youngest however has gotten in trouble with his daycare numerous times about biting... I'm talking about 2-3 times a week he bites someone. They even made me go to a teacher-parent conference. Are you serious? He's not even 2 yet! Apparently it's gotten way out of control though. He doesn't even listen anymore, he simply bites. He bit me so bad a couple of days ago that I bled and it's still sore! I give him time outs and even lectures because I was told that would help, but it hasn't. I don't know what to do. I've run out of ideas. My friend told me that when her daughter bit her she bit her back and she never bit again but I just can't bring myself to do it. What do you think?
8 responses

• United States
1 Apr 08
biting is more serious then time outs. my son bit a few times. some for play, some out of anger. sometimes they just don't know. i started them early, the first time they bit me i gave them a little 'TAP' (not too hard, maybe 2 fingers, more of a little tap if they're young, slightly stronger when they're older but not enough to leave a red mark) on their cheek and tell them very forcefully 'NO!' which they normally cry but they never bite again. You can explain the reasons later but they need a quick response for biting, as soon as it happens it needs to be addressed. thats what i did. i have 2 sons who have bit me or their siblings at one point...did that and biting was a rare occasion. my son maybe bit me 1-2 times while a toddler (4-6) and i scolded him with a tap on the cheek and he hasn't done it since. my nephew did the same thing, even when attempting to bite his cousin (my son) i would tap his cheek. I've never seen him try to bite since then.

• United States
1 Apr 08

Sometimes it takes an example of the wrong doing to get the point across. I'm with you though because it would be hard but sometimes it takes drastic measures to get the child or adult to understand what pain they're causing. She's so young she doesn't understand how wrong it is and will if it were done to her. I don't believe in two wrongs making a thing right but there are exceptions to every rule and this is one of them.

• United States
1 Apr 08
You're welcome! That's what friends are for!


• United States
1 Apr 08
Thankfully my daughter never went through a biting stage. I know a few kids that did though. The one kid kept biting my daughter and I was really mad! Finally one day my sister bit him back! And he never did it again! That method does work! lol. If my daughter had a biting problem I think I would have to at least try biting her back to see if it would work, after I tried everything else of course and nothing worked. I dont think its necessarily right, but if they felt how that feels they might think twice.

• United States
1 Apr 08
the thing is, my child has been bitten several occasions by children at his daycare. He knows how it feels so I don't know why that itself isn't working. I think that if I do bite him back, it will only hurt his feelings and make him think that I'm mad at him or don't love him...

• United States
1 Apr 08
Oh ok. Well maybe it wont work then. Idk. Or maybe they didnt do it hard enough lol. IDk then maybe it wont work for him. Im sure he will get out of the stage eventually.


• United States
15 Apr 08
I just think that it's odd that boys seem to bite more often than girls. Out of all the little girls that I know, only one of them has ever bitten, and that was Lynn. (Anna's daughter) She bit for like 4 months straight when she was in Jase's 2 year old class but I'm pretty sure she grew out of it now. It's just weird how boys seem to out bite girls. I wonder if it's because boys have a harder time verbalizing than girls... What do you think?

• Australia
1 Apr 08
I had the same problem with my son when he was younger and like your friend I bit him back and he never bit again. You don't have to bite hard just enough to give him a shock and to know what it feels like. I don't know of anything else that works.

• Australia
1 Apr 08
Forgot to tell you that you will feel really really bad if you do bite him, but you have to stay strong and make sure you talk to him and tell him why you bit him and give him cuddles after you have talked.

• Australia
3 Jun 08
I just wrote a discussion about a child at my daughters Kindy who bites, and has biten her. I think that if he isnt responding to your time outs and lectures, its time to tell him in a way he will understand. Bite him back. My daughter bit me once, and I bit her back. She hasnt bitten again. They need to understand that what they are doing is hurting the other child, and if they dont see or hear that, then I guess they need to feel it.

• China
2 Apr 08
I think it's only a habit for you baby.you need to get the memories when and how he began to bite something and why he bites?Then you may have the idea to help him and yourself.If you have no idea then refer to the children's doctor.

• United States
2 Apr 08
everytime he bites spray bitter apple in his mouth lol jjk i have no clue what to say about that