How often do you do your laundry?

China
April 1, 2008 3:50am CST
I am kinda a lazy girl,I don't do my laundry very often,do my laundry once two or three weeks.I have lots of underwear and socks ,so that I can change every day without having to wash it everyday.I do thing this way have saved me lots of time. Once my elder sister dropped by,he accused me for having too many underwear and socks when I was doing my laundry .Yes ,too many,full of the hangers.I saw some person do their laundry everyday,it just drive me crazy if I have to do it so often.so,what about you ?Are you a lazy girl just like I am?
9 responses

• United States
7 Apr 08
doing laundry is not hard for me. We don't have much of laundry all the time because I fix it 3 days a week.

• United States
3 Apr 08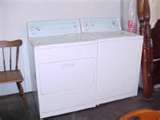 I wash my clothes every time the washer gets full. My husband and I put our color clothes in the washing machine and the whites in the hamper so when the washer is full, I'll wash them right then so to keep them from piling up on the floor.

• Philippines
2 Apr 08
I guess I am lucky because someone does the laundry for us every 2 weeks. I am too lazy to do my own because I take a bath 2-3 a day because of the summer heat, that means heaps of clothes, so, getting someone to do it for us is a treat.


• Thiruvananthapuram, India
1 Apr 08
I do most of my personal laundry work ...washing,drying up ,ironing etc. I find it quite fun-filled getting one's dress pressed by a steam iron.


• Pakistan
1 Apr 08
Well i am not lazy at all and i do my laundry once a week regularly though i am still single perhaps after getting married my wife will be doing that for me :D, now don't call it injustice putting my things on her can't she do a tiny biny favor for me ;),i think you should do it more often aswell keeping yourself and things around clean is quite necessary for healthy,passionate and ofcourse creative environment it keeps your mind active aswell.

• United States
1 Apr 08
When I was single with no dependents, I only had to do the laundry once every ten days or so! I do not have a lot of clothes, especially socks that I can wear! Now that I have children, they depend on me to help them have clean clothes to wear, so I have to wash every day! One or two loads a day to keep clothes, towels and sheets clean! Not every day, mostly weekdays, but it is important! I think it is good that you plan to have lots of socks on hangers, so that you can wash less often! it saves energy too and it good for the earth!