What is yor cat's name?

United States
8 responses

• United States
1 Apr 08
Four cats live here. Josie, a calico, was named for her coat of many colors. Peaches, a champaign tabby, came with her name from Georgia, so it fit. Arthur, a white Turkish Angora, is a king. His original name was R-2. Paisley, another calico, got her name because it just fits her. My Rainbow Angels, Divot and Baffy, got their names from their former people. Their dad was a golf-pro. Hence, Divot; a baff is the name of an obsolete golf club used to scoop the golf ball out of the carriage ruts. I have a sonnet about how cats get names in my award-winning book, Cat-House Sonnets, 100 poems celebrating cats. Ask me about it.

• United States
1 Apr 08
Well it sounds like you do have some very beautiful cats living in your home, and very lovly names as well.Tell me more about your award winning book. I love poetry!!


• United States
1 Apr 08
I posted a discussion like this not too long ago- Meeca is a combination of Micah and Meesha. Nemo is named just because he was comical looking. So the next cat had to be Dory and that name fits her so well. The last cat is IBK, Itty Bitty Kitty because she was a runt and so tiny. Shes not tiny any more.. she answers to Bitty.

• United States
1 Apr 08
Sorry, I did not see your discussion..I love those names you chose for your cats.

• United States
2 Apr 08
Thats quite alright, any chance to talk about my babies is A-ok with me! I didnt intend for my statement to mean, hey I posted a discussion like this, dont copy me!! =) Its a good discussion.

• United States
2 Apr 08
my cats name is Sammy , well his real name in actual is Samuel Adams and our last name . I got Sammy from my niece and nephew , they wanted Aunt Jo to have a cat so they brought him home from their other grandmothers farm , and we have had him every since , he is so spoiled ,and he knows it . I did get him neutered , and now he is about 20 pounds ,and just still loves to be a lap cat .

• United States
3 Apr 08
Well I like that name, that was my last dog's name. I too have a true lap cat!!

• United States
2 Apr 08
That is a very pretty name for your cat, I like that.

• United States
2 Apr 08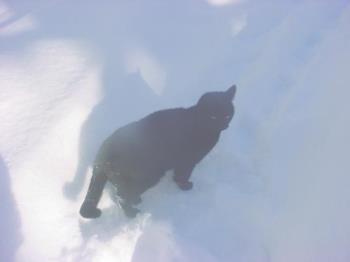 Herman, all black,My oldest Son named him after a character he read about in a book he liked. He is now 13 years old. My son left him with us when he got married. Salsa is a short haired spicy calico. With some sass thus the name she is two years old Simba a long hair all black cat she is shy and we just liked the name Skritchy is a half wild gray kitty that comes around and very shy, My son just called him skritchy and I have no idea why at all. It was some private joke of his when I asked he would just chuckle. Syd for Obsydian all black and a rascal and very spoiled by my 35 year old son who lives with us Cheeto an orange striped long haired male. I saw someone on Gather who had a cat orange named Chedder and his name inspired me to name our little yellow kitty (He is a big hairball now LOL) Cheeto.

• United States
2 Apr 08
Great names, and you sure have a variety of kittys. They all sound lovely.

• United States
1 Apr 08
I didn't name any of my cats. Columbus and Waffles were named at the shelter, and I liked the names so much that I kept them. Then there is Mimi, who was named by her previous owner. Speaking of cat's names, I saw a cat name book at the library. That book included some of the cutest and funny names for cats.

• United States
1 Apr 08
I like those names as well, I would have kept them too. i never saw a book with cats names in it.

• United States
1 Apr 08
My duaghter just got a kitten a few months ago and she named it midnight. First of all, it is black and secondly she already had one named that but it wandered off and she has always missed it anyway.

• United States
1 Apr 08
Carol,Thanks for responding.I love that name.I too had a black cat years ago and midnight was her name.

•
1 Apr 08
Years ago I also had a rescue cat called Blackie as he was already named he was the size of a panther rather than a cat thoug and the two I have now are named Wilfred and Sybil and my teenage daughter named them these names as kittens, I have just asked her now why she named them thos names and she can give me no reason bless. They are both such characters though, Wilfred is such a handsome boy and Sybil is such a naughty cat, she nips at ankles in the morning until you pay her attention and feed her and hides and jumps out at you when you least expect it. Ellie :D

• United States
1 Apr 08
Thank you for responding, it sounds like you do have some lovely and fasanating cats. They all have their own differant personalitys. Your daughter did pick some very pretty names for the kittys..