My favourite breed of dog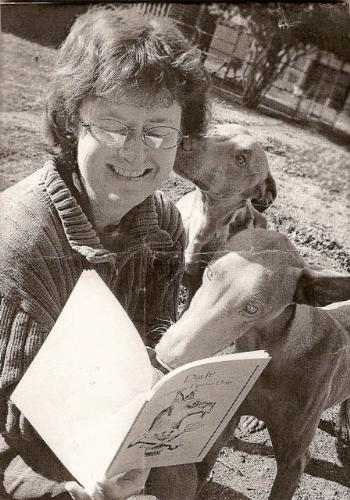 Australia
April 1, 2008 5:26pm CST
I've stated elsewhere here what my favourite dog breed is. Now I'll tell everyone some reasons why I love them so much. They are clever - clever like a fox or a cat, not clever like a golden retriever. A Pharaoh Hound usually does what it wants to do, and it takes the softest place to lie down. We breed standard schnauzers too, but the Pharaoh Hound is even more special. It's so much fun watching them play - they pick up sticks, balls, whatever, and throw and chase. The main reason the pup in the photo digs, is so that he can twirl around and chase the dirt he digs up. His routine is Dig, flick, twirl, chase, twirl again, dig, flick. He'll go on doing that to keep himself amused when nothing else is going on. It's so much fun to watch. The Pharaoh Hounds make me laugh more than a schnauzer ever has. And the Pharaoh Hound is so elegant looking, whenever people see one they want to know all about them. They have been a source of inspiration for my poetry on many occasions, and they look so good I love to take photos of them!
3 responses

• Australia
2 Apr 08
I have never heard of a pharaoh hound, where are they from orgininally?

• Australia
2 Apr 08
There are two stories on where Pharaoh Hounds came from. The first story is the more romantic and interesting one - that they were brought by Phonecian traders to the Mediterranean islands from Ancient Egypt a couple of thousand years ago. So they are that old! Well, maybe. The scientists have adifferent idea - they say the breed was created only a couple of hundred years ago by dog breeders who wanted a breed of dog that looked like those dogs you see from Ancient Egypt. My feeling is, well, maybe we'll never know. I'm happy to live with my crew, and I look forward to having pharaoh hounds in my life for many years to come. We have a puppy starting her show career in a couple of weeks, which will be fun - I love showing baby puppies, they're so naughty and they make us all remember we are all there to enjoy ourselves. Well, I am anyway - winning is good, but if I don't enjoy it, why bother going? The Pharaoh Hound is actually the National Breed of Malta. They are called the Kelb tal Fenec in Malta and they are used to hunt rabbits. These guys can move and they love to chase and catch, so I know that is true. They are still used in Malta for that role.

• Australia
2 Apr 08
There are two different stories on where the pharaoh hound came from originally. The first is that they came from Ancient Egypt, brought by Phonecian traders a couple of thousand years ago, to the Mediterranean Islands. That's the interesting, romantic story. The boring story is that the breed which became known as the pharaoh hound was created a couple of hundred years ago, by dog breeders who wanted to create a breed that looked like those dogs from Ancient Egypt. Certainly, the breed has been in Malta for a long time. They are called the Kelb tal Fenec, and they are used by farmers to hunt rabbits. I know they are avid hunters, and they'll chase anything - sparrows, butterflys, frisbees, dirt they dig up!(My dog Holkschter La De Da loves doing that - he's totalled our back lawn!) There are a few different breeds of dog in the Mediterranean which look very similar, which makes it easy for me to believe the first story.


• United States
2 Apr 08
Although i have never heard of a pharoh hound, they sound very interesting. you have to give us more info on this breed. i hadn't heard of them what so ever up until this point. very cute dogs by the way from what i could tell in the pic. God bless