Now I KNOW Lightning is reincarnated...as Tigger, no less.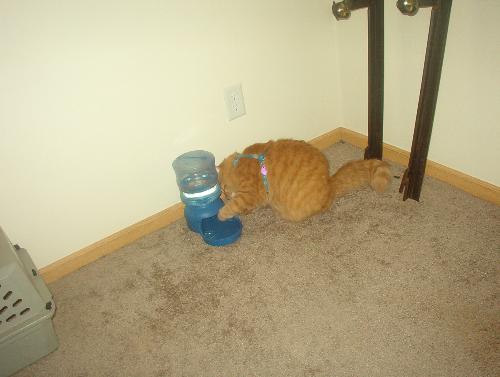 United States
April 3, 2008 10:55am CST
For the past few months, Tigger has been doing things that my cat, Lightning, used to do. Last night was the icing on the cake. Lightning used to always love to play in the water b4 drinking it. I caught Tigger doing this with the water dispenser I bought just for him back when I first got him and had to keep him in the spare room till he was tame enough to have free roam of the house. I had put it up once he was allowed out into the house but recently put it back in use when Simba wasn't feeling so well last weekend and I kept him in here to fast him and and slowly reintroduce his food. Well, Tigger took it upon himself to play with the water dispenser last night as the pic shows. This morning I found it dumped over and the carpet soaked. After picking it up, it still had water in it so I put it on my desk till I was done sopping up his mess. Well, he jumped up on the desk when I left the room for a few min. and knocked it back to the ground to play in. I took several pics to share with the 1st few comments. Thanks in advance for responding.
6 responses

• United States
3 Apr 08
How funny! Is Tigger related to Lightning in any way? Our outdoor cat, Boots, does this thing where she sometimes decides to dip her paw in her water bowl and then lick her paw. She'll do this several times, it's adorable to watch. When she has kittens and we're weaning them on soft food she tries to eat most of it herself. So when we push her away, she'll do the same technique - stick a paw in between the kittens and get some food on it, then lick her paw.

• United States
3 Apr 08
When my cat Spooky was around he loved sitting next to the tub as people bathed. He would dab his paw in thwe water as if testing the temperature. Then he'd swirl his paw around the water splashing it all over. HAPPY POSTINGS FROM GRANDPA BOB !!~

• United States
3 Apr 08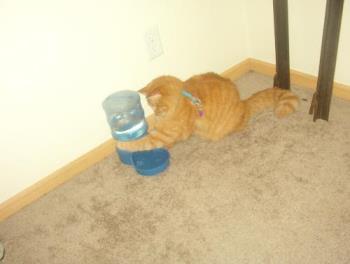 No relation whatsoever. Lightning was 11yrs old when I had to have him put down just under a year ago and I adopted Tigger at the end of last April when he was just over 5mo. old. They became very close pals in a very short time. Tigger grieved for several months afterwards. With the Drinkwell water fountain, Tigger will only drink from the spout right where the water pours out of but if I take the resevior out to refill, he will dip his paw in and out numerous times till I put it back. Lightning would actually paw the water till he flooded the floor around the dish b4 drinking.

• United States
3 Apr 08
We always see others in new pets when we have lost one. It's the human physche bringing back the loved lost pet. But this sounds awesome. Too funny. My Buster doesn't do anything strange like this. he does run in the snow with his nose dragging in it. Then he actually tosses it in the air. Glad that Tigger is filling the void left by the loss of Lightning. Have a great day/evening. HAPPY POSTINGS FROM GRANDPA BOB !!~

• United States
3 Apr 08
Tigger is way more entertaining than Lightning was. Like now, he's found a fly in his room and is making this weird meow sound I've never heard b4 from any cat I've ever had. His mouth is opening and closing rapidly while he's making the sound and chasing the fly around his room. Yeah, Tigger and I know we both been thru a tragic event with Lightning and leaned on each other for support.

• United Kingdom
4 Apr 08
Lol well our Cat Simba always seem to wash his Paws in the drinking water while the other 3 sat there watching and waiting for him to finish so they can have a Drink lol and if Scruffy (his Grandmother) got fed up waiting she would whack him to move him

• United States
5 Apr 08

Sounds like what Lightning would do whenever we had new kittens in the house. They would hog the feeder so Lightning would whack em on the head so he could eat.

• United States
3 Apr 08
Ya know, Rygel taught Oliver some little tricks back when Oliver was a kitten. He's then gone on to teach other new kittens tricks - Rygel is our "uncle" cat. Could Lightning have taught Tigger this trick and now that you have the fountain out again - and wet carpet too - he's kind of remembered it?

• United States
4 Apr 08
Could be. But then how do you explain...never mind, you can cause Lightning did the same things. Guess he did pick up alot from Lightning. More than I figured possible cause he does ALOT of what Lightning used to do. Scary in a way.

• United States
4 Apr 08
I know that Marco tried to teach Scamp things, but Scamp was afraid of things. He hit 3 months and started hiding under beds. I swear, if any sees Scamp they'd think he was a feral as Star, but then he'll flop over and beg for belly rubs from friends.

• Garden Grove, California
5 Apr 08
what a cat that is so funny and so cute. smart little creature too. I wish I could have a cat as pet but my apartment manager does not allow pets darn. Ilike cats because they are their own creature and they rather own you then you owning them in a way. Its so much fun to have a couple of cats too.

• United States
5 Apr 08
That's why we got out of the apartment we rented back when we first got married 13yrs. ago. I had to have my babies around me. They are such a stress reliever as well.

• United States
4 Apr 08
Aww--that would be something if Lightening's spirit somehow reincarnated into Tigger's..unless he's just remembering the antics Lightening did since you said they were close and it's just showing up now. I used to have cats that would play with the water too..uh, there would be more water on the floor than in the bowl...hehee. and had one cat that never ate food like a regular cat but always scooped up a morsel of food and lick it off his paw.

• United States
4 Apr 08
lmao..That was Lightning alright. We used to have a 3 gallon water bucket IN a plastic milk crate cause Lightning would tip the bucket over wanting to play in the water and flood the kitchen. Then when I got the Drinkwell fountain, I had to buy a tray for a dog crate to put under it cause he would then swat at the flowing water plus do his usual water paddling..again, water all over the floor. That cat drove me nuts with his attraction to water. Even the tub faucets weren't safe cause he learned to turn those on to play with the water in the tub. I pray that Simba doesn't take the water play as far as Lightning did...my poor floors.