Do you love playing Basketball???

Philippines
April 4, 2008 7:33am CST
Do you love playing basketball?. Me and my friends always play basketball in the morning and noontime we are so happy when we won our game but if your playing basketball you always you will always put on your mind is "Theirs always an accident" that was the always my father said when i will play basketball. I think you need to be a very careful men/women if you are playing basketball.Do you know that in our country the Philippines all of streets have a basketball court.I think our president need to change the national game Sepak Takraw to the basketball because almost all of Filipinos know the game basketball.
6 responses

• Philippines
16 Apr 08
Yes i love to play basketball it`s a nice game for me do you play basketball everyday?.

• Malaysia
10 Apr 08
sure i love basketball! hei, there's rumor saying that Philippines basketball players are very good, they can even beat US players! Is that true? Anyone, any idea?

• United States
8 Apr 08
I love playing it..love driving towards the hoop for a ez lay up, or even a reverse layup..my strongest strength is the 3 pointer and then i can steal the ball pretty good..its jus the best when you hit a game winning or tying shot in the final minutes..

• China
4 Apr 08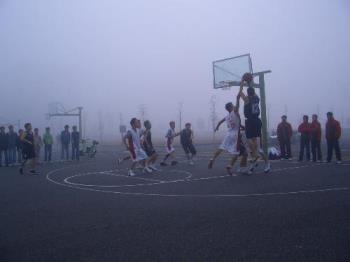 Hello dear Armortec. I do not like playing basketball, but I like to watch people having a basketball match, which is more exciting to me. I always cheer for my team when one of them shoots the ball into the basket and gets a score. Here I have uploaded one photo that I took when our school basketball team was having a basketball match with another school team on a foggy winter morning in December, 2007. I was there to watch the match for three days and enjoyed myself there and I am very happy that our school team won the first place of all the 12 teams. Cheers!

• Philippines
8 Apr 08
hey.. i love this sport. I have been playing basketball all my life. and yes i agree, all the streets here in the Philippines have atleast 1 basketball court. I play for my team in school and at the same time i play street league tourney in my place. i love this sport. too bad i sprained my ankle 4 days before our big tourney.

• United States
8 Apr 08
I like playing basketball but I have not had the time to play. I will plan to start back soon.