Do you play Ikariam?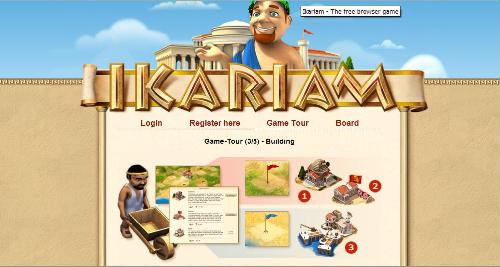 Romania
April 4, 2008 6:34pm CST
Is anyone around here playing Ikariam? I've seen a banner and checked out the game from the outside a bit. It looks very interesting, but, at some point, bit says something in the Terms and Conditions section about some sort of payment... That's what I wanted to ask: is it a free game and you can buy extra moves and resources, or do you have to pay a fee to signup or some kind of subscription?
5 responses

• Greece
11 Jul 08
I am playing it... the game is great. Not very easy to learn but when you start to understand it it's a piece of cake. Entertaining and completly free. I recommend it to anyone who enjoys historic games, and having an historic empire...

• Romania
11 Jul 08
Unfortunately, once you get stronger you find out that many options are not yet implemented, like occupying other cities or upgrading your ships and units... That's why I'm not playing Ikariam anymore, even if I had created a pretty strong alliance (about the 80th on my server).

• Canada
13 May 08
I play ikariam and it really is quite entertaining. I log on and spend max of 30 min on it to quickly organize evrything and leave it at that. Slowly the town grows and there is more for me to do.



• Hong Kong
15 Feb 11
Yes I do! It's absolutely free of charge, but if you want to do better in-game (such as more resources and larger warehouses, or larger transport capacity), you can buy ambrosia for a certain price. However, you can still do well without paying a cent!