Court found Bear guilty off stealing honey!! How bizarre!!!

April 6, 2008 2:48pm CST
A bear has been court stealing honey from a beekeeper. The animal was convict of theft by a court in Bitola in Macedonia following a year long case. However, he was excused from attending court. The case came after the beekeeper reported the bear stealing his honey. He told the court he had to protect his hives by playing thumping folk music. The beekeeper told the court "I tried to distract the bear with lights and music because I heard they were afraid of that." He had bought a generator, lit up the area and played the folk music. The courts heard the bear stayed away for a while but returned when the generator ran out of power and the music stopped. The court found the bear guilty but because it had no owner and is part of a protected species it ordered the state to pay for the 140,000 denars (£1,700) for the damages it caused to the hives!! There is no information of the bears whereabouts.
6 responses

• Australia
7 Apr 08
this is definately a bizzare story.fancy the tax payer paying for this.next they will be charging cats for killing mice and the owners liable.why did this beekeeper not call in the authorities to take the bear away to somewhere away from his honey.its only natural that the bear would want his favourite food.cheers sue

• United States
7 Apr 08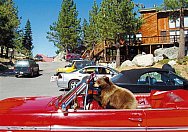 hmm ... this court order seems a bit out of whack. Bears do what bears do! I live in an area with lots of bears, by last count over 600 bears. There are several bears that live close to my house. Three of them ransacked my landlord's house a year ago! Bears will eat almost anything, especially in the spring time when they first wake up from hibernating and in the late fall just before going to sleep for the winter. Check out this link for more of my "Bear" photos: -- http://www.gather.com/viewVideo.jsp?id=11821949021849154&nav=Namespace _



• Indonesia
7 Apr 08
whhoooaaaaa, thats really bizarre. how could an animal judging guilty by court couse this kind thing and asked the state to pay the damage that the bear made. i just really don't understand how could it happened in there. a bear stealling honey from human places cause of some reasons. perhaps his habitate getting disturbed so he can't find any honey anymore which made hi stealling honey. ahhhh, i think this occurrence little bit ridiculous for my self

•
6 Apr 08
How very funny! I have never heard of a bear or indeed any animal being taken to court before! But is that not what bears do anyway steal honey, have they not read winnie the pooh. I cannot believe that at all, is this what taxpayers are paying for these days, wild animals being taken to court for trying to survive, oh please. Thanks for the laugh though!