Mirror Mirror on the Wall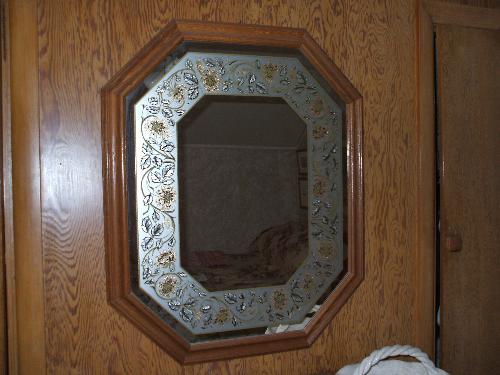 United States
April 9, 2008 7:59am CST
Do you have alot of mirrors that you use for decorating? I have about five that I have scattered around my house. They say they add dimension to a room and also are very decorative when they are mixed with other things in an arrangement on a wall. So do you use mirros for decorating? My favorite is one I have in my bedroom. I bought it at an antique store and it has gold and silver etching as a border. How about you?
9 responses

•
9 Apr 08
I have five mirrors also. I don't have one in my bedroom at all or in the main liveing area as that is so large a mirror just makes it loo even bigger but have two in the bathroom, one in my daughters room, one on the landing and one in my sons room. They are all very basic mirrors except one which has an ornate border which is on the landing area and looks very pretty. Ellie :D


• United States
23 Apr 08
I read somewhere that large mirrors make the room look larger than it really is. I have a mirror hanging behind my bed that was my great grandparent's 50th anniversary (spelling?) present. It's a cheap little thing but it is still nice for that alone. I also use to have a bathroom mirror against the bottom of my armoir. I put it there because the drawers broke and it looked terrible without anything there to cover it up. It looked really nice, but the day after I put it there, my brothers broke it into lots of little pieces! I was so mad because I took the bathroom mirror from the old house just so I have part of that last home in the new one. That's alright though because I also took the light fixture that was in my room lol!

• United States
21 Apr 08
I have one large one in my living room. I was given to me by a nice lady in Miami. She had it for over 40 years and wanted me to have it. I have no more than that and the medicine cabinet mirror in the bathroom.

• United States
10 Apr 08
I have two mirrors in my house that are for decorating, and both are in my living room. I don't particularly like catching my reflection though, lol. I have one long mirror above my couch, and it was actually one of that mirrors on a vertical stand. However, the stand broke, and when I moved, I just hung it horizontally on the wall, by one of the hooks that used to attach it on the stand. I've actually gotten several compliments on the way I used that one. The other is square, and the border is encrusted with sea shells. The sea is somewhat a theme in my living room, and I loved it the first time I saw it.

• Indonesia
10 Apr 08
I have four mirrors at my home. frankly, I don't use them for derative purpose. merely for check my outfit, my performance before I go out. It's juz simple mirot, with black border and square shape.

• Canada
9 Apr 08
I love mirrors too but i dont have a lot of them around the house. i dont know why. Maybe I will someday. Maybe i'll start to collect lil fancy ones. hehe. I haev a round one that has speckled purple glass sort of mosiac style around the outside. I got it at a shop called "the black market" in halifax NS, They buy a lot of stuff in india and bring it back and sell it in the shop. Very nice stuff.

• United States
9 Apr 08
Yes, your are right about mirrors adding dimension to a room. I use mirrors, too. I have two in my living room and they also add light to the room. I use mirrors alot. I also have a favorite...it is an old mirror with decorative edging on the frame and is antique gold...I got it at an auction.

• United States
9 Apr 08
Yes I do have mirrors in the house that are used for decorating. I have one large one in the family room that was left to me by my parents. It is just beautiful, big and the details on the frame itself are unbelievable. We also have two mirrors I use all the time upstairs in the bathrooms. They are placed on the back of the door so I can see the back of my hair when primping.