Nibiru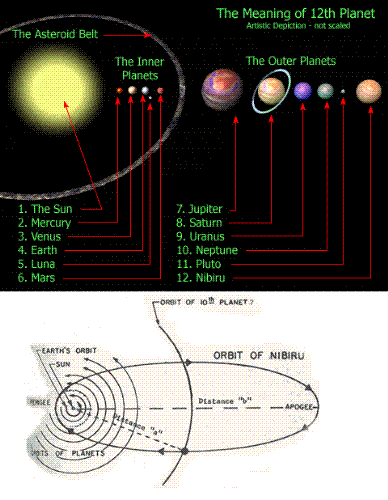 Romania
April 10, 2008 10:37am CST
Those somebody of you all know something about this planet? Nibiru or Planet x? Well if you don't i`ll briefly say you some things...This is the 10th planet of our sollar sistem...it's the twin brother of our Sun that comes in our sollar sistem once at 3.600 years ... and when it camed before it tooked place cataclysmic events like tsunamis, huge earthquakes, floods, fast melting of glaciars, sea level rising with a couple of metters and the worst...asteroids from the asteroid belt of Nibiru bombarded the Earth:| the Earth won't rotate about 3 years because of the nibiru's magnetical field. 50% of you won't believe me 'cause you haven't seen nothing about these at the TV ... well the government keeps it all secret, why? Because they know that in 2012-2013 all people on earth will see 2 suns in the sky and only then will generate panic, people will go crazy, steal,fight and other things... all over the world will be civile wars, the world will go mad:| and if they keep it quiet and nobody knows they think it will somehow be a simple way of keeping everybody calm until it's to late...Probably now 90% of you already closed the window, for those who didn't do it i advice you if don't have enough money to build a bunker at least move in mountains and you'll at least get rid of tsunamis,floods..etc If you don't believe me go inform yourself...go on nasa's website or xfacts.com
4 responses

• United States
14 Apr 08
well, that is interesting. thanks for the info. I am confused why it is called a planet if it is a sun though... since the sun is a star. I am also confused about the gravitational pull because the moon is what causes the tide and such things and not the sun. I reckon I just do not have a scientific mind.

• Romania
14 Apr 08
it is the sun's twin but it isn't a sun 'cause it is a failed one...it didn't ignite...i think only the moon cuases the tides because it's in owr gravitational field, it's orbiting around us and it is the single planet closer enough to phisicly influence with it's own gravitational field tides and other things on earth :)


• Canada
14 Apr 08
I think you are on to sometimes here, many scientists are saying that.

• Canada
14 Apr 08
I've always wondered about that as it has many religious implications as well as scientific. I definitely believe it's possible personally I don't worry about it, but I understand if it comes too close we are in for major problems of biblical proportions. Scientists are spending our money in researching this so I give it credence. Thanks for your insight on this subject, I will look further into it.

• Romania
14 Apr 08
well , you don't know how happy i am to see that somebody else is interested in it...everybody think's i`m crazy and think's that it's a scam 'cause they didn't see nothing on TV...maybe i`m to implicated in it and i`m worring to much about it :| anyway the truth is close :)

• Canada
14 Apr 08
the worst part about it is it has been on television many times and still people don't acknowledge it, to disagree is ones right everyone has opinions but to dismiss and ridicule people is un called for, anyways send me an invite if you need any friends on this site.

• Romania
14 Apr 08
you bet i do need some friends :) i've first came on this site to make money but when i saw that i can learn much things on it ... i renounced of the ideea of making money here :) i just want to hear everybody's opinion on some questions :P