What is the best ever chocolate bar?

April 10, 2008 7:10pm CST
So, i've been watching my weight lately and i havent been able to eat much chocolate. When i do treat myself to a candy bar, i want to make sure its worth all the calories by how it tastes.. If i was to treat myself to a chocolate bar, what do you think i should choose? Which is the tastiest, and worth all those calories? I'm thinking maybe a bar of chocolate covered turkish delight?.. or perhaps a peanut butter and chocolate kitkat (the protein from the peanut butter makes it not so b ad for you right?!).. So what would you choose? xxxxx
7 responses

•
14 Apr 08
Im not a big chocolate BAR fan anymore..but when i used to eat chocolate bars i would gravitate toward skor bars..almost everyday..my personal fav

•
14 Apr 08
Ah, twovotes for Skor bars.. they must be good! So you've been avoiding the choccy bars since starting bodybuilding? Thats why when i cheat and have a little treat, i reeeeally want to make it count. I've had a fair few Bodybuilding Bars, and they just arent the same as real choccy.... although i have spome Peanut Butter n Chocolate Protein Bars that are pretty good.. but not quite good enough when that choccy urge hits ya./ xxx

•
14 Apr 08
No i stopped eating score bars way before i got serious with bodybuilding, im not a candy fan...never really been..and yes im familiar with protein bars and there nothing like a chocolate candy bar....NOTHING..no matter what they say on the commercials or whatever a protein bar will never taste as good as a regular good o suger filled choco bar.

• United States
11 Apr 08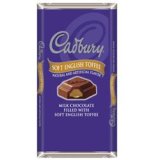 I absolutely adore the ones with the liquidy caramel inside! It doesn't matter what brand it is, they are all delicious. My husband just bought me a Cadbury one. I am having a hard time eating one square at a time, that is my diet plan for portion control.

•
11 Apr 08
Ooooh naughty! I must admit, liquidy caramel chocolate is really gorgeous, especially the Cadbury's one ~ your husband has good taste you lucky girl, lol :)Galaxy Caramel bars are gorgeous too i think, so much nicer than chewy type caramels, which im really not overly keen on. Why cant they make low fat liquid caramel chocolates? I'm getting a real craving now! xx

• United States
14 Apr 08

Rocky Road Bars Road work ahead? Don't worry. It's easy to make gooey marshmallow Rocky Road Bars from cake mix. Prep Time:15 min Start to Finish:2 hr Makes:24 bars 1 box Betty Crocker® SuperMoist® chocolate fudge or devil's food cake mix 1/2 cup butter or margarine, melted 1/3 cup water 1/4 cup packed brown sugar 2 eggs 1 cup chopped nuts 3 cups miniature marshmallows 1/3 cup Betty Crocker® Rich & Creamy chocolate frosting 1. Heat oven to 350°F (325°F for dark or nonstick pan). Grease or lightly spray 13x9-inch pan. 2. In large bowl, stir together half of the dry cake mix, the melted butter, water, brown sugar and eggs until smooth. Stir in remaining cake mix and the nuts. Spread in pan. Bake 20 minutes (25 minutes for dark or nonstick pan); sprinkle with marshmallows. 3. Bake 10 to 15 minutes longer (14 to 18 minutes for dark or nonstick pan) or until marshmallows are puffed and golden. In microwavable bowl, microwave frosting uncovered on High 15 seconds. Drizzle over bars. Cool completely, about 1 hour. For easier cutting, use plastic knife dipped in hot water. For bars, cut into 6 rows by 4 rows. Store covered.

•
14 Apr 08
Oh dear! I dont see how those cake bars you listed a recipe for can possibly be a healthier option, for those watching their calories! Not for me at all.. sorry :(

• Hong Kong
14 Apr 08
If you are watching your weight, I think dark chocolate is really good for you. But I am not sure if you would like the bitterness in the chocolate. I, myself, only choose dark chocolate and the best brand I have would be Godiva! I personally think their chocolates are to die for!


•
14 Apr 08
Yes, i tend to choose Dark Chocolate over milk usually, for the health reasons. I've eaten the 70% cocoa and higher bars before, trying to be good... but trully i havemnt enjoyed them much, because they were just too bitter, and didnt satisfy my sweet cravings, so they really werent worth the calories at all, even if the calories are lower than in milk chocolate. So what i tend to do now is just have the normal dark choccy, or a much smaller portion of milk chocolate ~ like a 1/4 or 1/2 a bar (although i ate a whole turkish delight the other day eek!). xxx

• Garden Grove, California
18 Apr 08
I would have a cadbury dark chocolate bar with pecans and mint bar as it is so delicious and yummy.

•
24 Apr 08
Oh dear, if there's one thing i hate the taste of it's mint and chocolate.. urgh! I just cant enjoy it all.. but then, i dont really like the flavour of mint al all, so thats why! I always miss out when peeps pass around the after dinner chocolates, because they're always mint flavoured.. ewwww! Now chocolate and orange is another thing altogether, give me that any day, and i'll be a very happy bunny ;) xxx

• United States
16 Apr 08
Mmmmm.... I love lots of candy bars. Peppermint Patties are my favorite. Ever have a Hershey bar? How about a Milky Way? Snickers? Twix? Reese's Peanut Butter Cups? Mallow Cups are made here in PA. They are shaped like a reeses, but they are chocolate with marshmallow creme inside.


• United States
23 Apr 08
Awwww...I'd send you some, but they would probably melt along the way!

•
16 Apr 08
oh my lawdy! The Peanut Butter Cups and Mallow Cups sound right up my alley! Wow they sound soooo good right now. I adore PB as you already know, and another one of my absolute faves is marshmallow (and woopee! Marshmallow is fat-free isnt it? I know it has lots of sugar in it, but at least the fat's low!). Why oh why cant i live in the US with you guys, so i can get my hand on all these delicious sounding choccy bars?! Here in England we do get Milky Ways, Snickers and Twixes. I like milky ways occassionally, if i need something sweet, because they're so small, and presumiably less calories than a big bar, but if im honest i dont really like the taste nearly as much as other bars. Snickers are yummy though ~ i love the caramel, and the nuts are an excellent addition to make me feel like iv had something thats a bit good for me, and a little extyra protein. Mmmmm, im getting a new craving every day because of this discussion! xxxxxxxxx