Still looking for ways to make money

United States
April 10, 2008 7:13pm CST
Yes, I am one of those whose looking to stay home and trying to earn some money. So far not so good. I've been doing surveys for a month now so hopefully they'll pick up soon. I have also done some seamstress work out of my house, but it's pretty slow going. I've also started a blog and have an ad. Like I said, hopefully things will pick up. Maybe I just have to focus on one thing and just become proficient at it. If you are doing anything differently than I am and bringing in a paycheck, by all means let me know please.
7 responses

• Davao, Philippines
11 Apr 08
there are so many ways to earn money. based on my experienced online...the best site as of the moment that will assure you the payment is mylot. this is legitimate site that you can earn more depending on you activity. if you want more money so you can work it hard. earnings here is unlimited, it depends only you if how much you want to earn in a day. i love this site because i've been already paid.

•
11 Apr 08
hey friends , even i wanna make some extra money , please help me to sign up with some more good sites where they are genuine and offer low est payouts.. will really appreciate your help and guidance. my mail id is bajaj_akshay333
@yahoo
.com ,... waitingt in anticipation for you help friends

• Singapore
11 Apr 08
Hello there kieungoc, good day to you. I see that you are making a good effort there to look for some extra cash. I would like to recommend you this particular site that pays for doing reviews. Are you interested to? If you are, then PM me and I'll tell you all about it plus the link. You can start doing your reviews and there's no need for registration nor a start-up fee or anything like that. You just need to look for things like at home or things that you just buy to review. Or services that you have tried which you feel that you dislike or like, you can review and the best part is that you'll be paid for all that. But your reviews have to be very original and yours truly; not copyrighted. I have been paid well from this site and I'm not going to boast but I've seen $400 and more for my efforts reviewing just about anything that I could get my hands on since I have lots of gadgets at home for reviewing including some PC stuffs and other electronic brands. I would say that electronics is my specialty category. It is simple to earn money this way. And mylot and this site are the best sites so far for me. PM me for details, thank you and have a nice day. ;)

• United States
11 Apr 08
I think the best thing you could do is pick one thing and become proficient at it like you said. Once the income is coming in from one place then start working on another and so on. If you jump from one to the other, you never get a chance to get anything established. Most things take time and focused effort. Good Luck!

• United States
11 Apr 08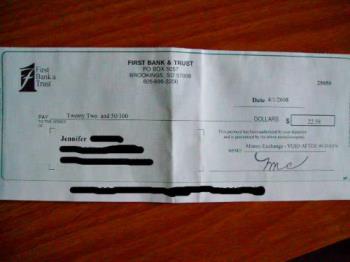 I have quite a few things that you could do from home to earn some money. I have a site where you get $25 just to sign up, and $10 for ever person you refer. It's like paypal, and they are just picking up, so they are throwing a promotion for all new members, but the promotion ends on the 15th. I have payment proof on my website, and I'll even post a pic of my check here for you to check out. I also have a site where you can get paid for your incoming phone calls. I've already made the payout, and am just awaiting my check to arrive. They are going to start paying by PayPal, but they too, are fairly new so they haven't started that just yet. I do GPT sites as well, to earn some extra cash. I've reached payout on one, and on another one I am rather close, and they pay out 3 days a week. It's easy to reach the payout, and they pay by paypal. You can check out my website if you like for many opportunities to earn online. I highly suggest GPT sites. If you would like tips to earn on them, feel free to message me here, or even email me, the link to email me is on my site. I will add you as a friend, just in case you would like more info, it will be easier for you to message me. Jenni www.freewebs.com/jenni_jelly

• United States
11 Apr 08
I have a place for you to check out. If you want to know more please feel free to contact me.

• United States
11 Apr 08
I have a great site for you. You get 25 dollars for signing up and you get 10 dollars for every person that you get to sign up. The maximum you can get in one month is about 500 dollars. I am doing very well. If you look at my one post with the one that says 25 dollars to join, you will be able to read what some of testimonies from fellow mylot users. So good luck. If interested go to my profile and go from there. I wish you the best of luck. I have gotten paid another 10 dollars today.