do you get stressed??what do you do if you have it??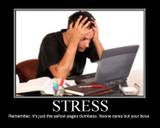 Philippines
April 12, 2008 9:39pm CST
Yes and i got stressed many times last school year.. I got eye bugs and sometimes i got headaches because of it.. I just go to our bed and sleep there.... One time I slept one whole day w/o getting awake... I made it after we go to BOHOL last summer 2006...
No responses