Are you happy with your marriage? (If you are married)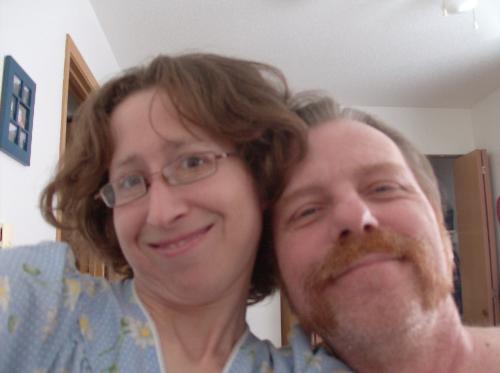 United States
8 responses

• Canada
7 Jun 08
My husband and I have many levels of trust in our marriage. Sadly we have both had experiences that have really shattered our trust in people in general. I have problems with other people handling money, and he has problems with other people pushing too hard. Once when I was qusstoning him about something, he commented that he NEER had to question me. I said "you never NEED to question me, because never yet, have I omitted a single detail, whereas you feel that telling me too much is reporting in like you did to your boss, or like your ex-wife made you do." I explained to him that I don't "report in," I simply share things with him that affect both of us. When he heard it put this way, he lightened up on me for that AND HE TOLD ME MORE of what HE was doing, without worry about me "holding him on a short leash." COMMUNICATE!!!! Have you addressed your concern with your usband?

• Garden Grove, California
19 May 08
I was very happy in our marriage as we were best friends and lovers too. We trusted each other explicitly and that never flagged forthe thirty four years of our marriage. I am now a widow.

•
20 Apr 08
At first she constantly accused me of looking and not trusting me. That up set me at the time because i did not look and was not like other guys that look at other woman. Because After 5 engagements and a horrible first marrage i felt i found my sole mate in her! I accuse her nowbacause she does not seem to care for me the way she use too!

• India
15 Apr 08
Nope im not happy, no trust and no no respect, so no marriage....

• China
15 Apr 08
Yes I love and enjoy my marriage.I have got a good husband.And we trust each other.Trust is very important in a marriage life.

• India
15 Apr 08
yes i am happy with my marriage although there so many problems between me and my husband.intially i was not happy with my marriage.our view,interest does not match. when i asked my spiritual master about my marriage relationship he told me each and every person are different from each other.if you will marry another person is their any gurantee that he will make you happy.make your life easy by enjoying each other's view and interest.now i am very happy

• United States
15 Apr 08
I am very happy with my marriage of 10 years, the first few years were realy hard and we almost got divorced several times. There are still time when my husband irritates me but that is life and I love him very much and I am very happy that we worked through our problems in the begining so we could get to this point of being happily married.