Can somebody help me?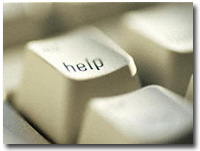 India
April 16, 2008 8:57am CST
Guys, I need a help. it may sound simple. i need to upload a picture to my profile. i mean a dp (display picture). i dont know how to do that. i have searched a lot and asked lot of people. but nobody could help me. actually people dont remember how they did it. so, please help me friends.
3 responses


• Philippines
16 Apr 08
you should try his/her suggestion

• India
16 Apr 08
thanks friends, i got it. thank you very much for helping me.

• China
17 Apr 08
after so many friend told you that how to upload your photo on the website,i guess that you know how to use it,and good luch to you.

• India
17 Apr 08
thanks friend. i have uploaded my picture in mylot. thanks to all the friends for helping me. it was easy actually, but i dint get that initially. happy mylotting...

• India
17 Apr 08
hi, well what you need to do is look on your left side, in green colour you would see..customize your profile. go there you would se phot's and you would be guided from there. all the best..hope this works