Help The Environment By Reducing Methane (Greenhouse Gas)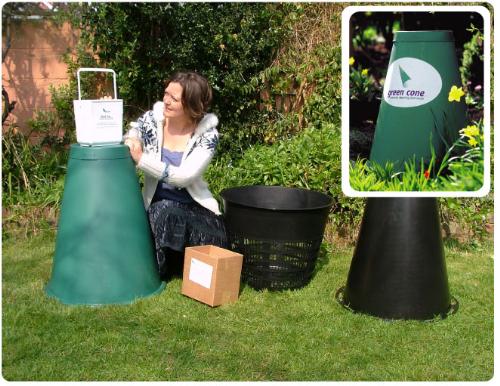 April 17, 2008 10:34pm CST
I've recently been made aware of a great and simple way to help the Environment, even more, with a Food Waste Digester. Food waste makes up around 31% of your dustbin capacity, although a percentage of this can be composted. The rest or the waste has to be discarded in your bin, to be sent to the landfill site. But there is a Waste Digester available, which will take all your food waste, both cooked and uncooked, and reduce it to its natural components of water, carbon dioxide and a small residue. This solar-heated garden unit takes all cooked and uncooked food waste including meat, fish, bones, dairy products, vegetables and fruit, thus reducing the waste you send to the landfill by some 20%. This will leave your dustbin with clean waste, most of which can be recycled. So what does this mean to the environment? For starters, less waste means fewer lorries on the road. It will reduce the need for landfill and large-scale treatment plants, and there will also be a reduction in methane production which is a greenhouse gas. Don't you think all this would go a long way towards saving the environment? Would you be willing to purchase one of these waste digesters and have a clean dustbin, and save the air pollution, as well as slowing the production of methane gas? What are your views on this product? If you would like to know more, then visit the Green Cone Site and look for the Green Cone Food Waste Digester.. http://www.greencone.com/home.asp?lang=1
8 responses

• Edinburgh, Scotland
18 Apr 08
A very good idea that all of could use to great benefit of saving greenhouse gases. They are using methane collectors on waste sites already for heating purposes. If we could fine a way of making cows wear nappies for thier deposits maybe we could use the methane from them as well as there are quite a few deposits each day from the millions of cows around the world. Thanks for a great idea from Deeeky.



•
18 Apr 08
Yes and a good item to add to the local council's campaign to help the environment. They are offering at the affordable price of £14.95, instead of the MRSP of £69.55. Naturally, this is for a limited period, but I'm of a mind to get one, pronto! Are they doing them, where you are? As for the cows, that's a good idea, because also listed in the booklet are biodegradable nappies. If they made them cow size, that would be wonderful, huh? Thanks for the idea for another post, my friend.

It won't be headed, The Cow Jumped Over The Moon, either!

Brightest Blessings, and thank you for your contribution.

•
19 Apr 08
Yes, it's a bit like bolting the stable door after the horse has bolted. But, in my grandfather's days, they were pretty green and we can be again. The next move is to clamp down on the supermarkets, I think! I hate having to buy their fruit and veg and meat. Sometimes, I get to go to one of the many farm shops around here, and everything tastes so much better. Supermarkets are killing all the corner shops. We've lost a baker, a butcher and a general stores since I've been in the village. It's getting way out of hand.



• United States
18 Apr 08
I recycle steel, plastics 1 & 2, aluminum (to the roomie's dad) and glass already. They also take newspaper and cardboard - but I don't get the paper and by the time the cats are done with the cardboard, they don't want it.... I don't really throw away a lot of food waste either, the stuff that the birds might want, I put out for them - old cereal, bread, popcorn, chips. Some that hasn't spoiled goes to the dogs. So well over 50% is paper waste and the rest is a mix between spoiled foods, cat litter, non corrigated cardboard and plastics. The good news is that later this year they are going to change the recycling here and pick up more kinds of plastics and non-corrigated cardboard - like cereal boxs and soft drink boxs. That'll mean that much less in our trash bin and that's a good thing.


• United States
19 Apr 08
that's a pretty great product! i hope it is affordable so most can have it and help our world for doing the right thing. if they cannot maybe if they have their own land they can start decomposing and that is another great way to help our world. i feel we should all start being responsible by our own action and one by one we can help our world together. my husband and i try to conserve energy as much as we can and hope that can help a little. anyway, great to know that there are people like you who shows real concern about our planet. keep it up and thanks for sharing. takecare!

•
19 Apr 08
Our local council is running a campaign to save the environment, and are offering the Digester at a very reasonable price. They've made them available locally, at £14.95, as opposed to the MRSP of £69.55, which is really an opportunity that can't be missed. Thank you for your contribution and Brightest Blessings.

• United States
20 Apr 08
wow, that is really a wonderful opportunity to have one. im glad that your local council have such program, i am really impressed i hope most country will do the same, that will be a good move to help our environment. anyway, hope many will buy it. takecare and keep up the great work.

• Dominican Republic
18 Apr 08
Good discussion topic Darkwing. I would definitely buy one if it weren't too expensive (can't check price as can't open link) I think if each and everyone one of us did a little something then that would certainly help the environment, it is a whole lot better than doing nothing! In Spain we used to put all our food waste (well what the dogs didn't eat!) into a home made compost and separate everything else (bottles, plastics, paper etc) and I would recycle batteries as well. Here in the Dom Rep unfortunately they haven't got round to recycling yet. They still just throw everything on the ground where ever they are, which is a real shame. People do come round and clean it all eventually but I don't know where it goes or what they do with it. I will have to go and investigate (landfill or burning?)

•
18 Apr 08
Thank you my friend. You're right, they're probably not available in the Dominican Republic as yet, and if you were able to ship one in, it would probably cost you far too much. I'm lucky, in that my local council is campaigning to clean up the environment at the moment and they're offering the Digester at £14.95, instead of the MRSP of £69.55, which is a bargain even I can't resist. It's quite unobtrusive when placed in the garden, as it's green, so if I can do my bit, I will. Brightest Blessings my dear friend and thank you for your contribution. xx

• Philippines
18 Apr 08
This is such a great idea... i wonder if this Food Waste Digester will be available commercially in my country... and if it will be affordable enough to me to buy one... if not... i hope the leader of my community will get one... so that residents will just bring their food waste to a specific location where the Food Waste Digester is located... Such a device to help the environment should be available to all...

•
18 Apr 08
Yes, I agree, it's a wonderful idea, my friend. I'm not sure whether you have one available in the Philippines, but maybe e-mail the company from the site I gave in the main discussion and ask them whether they distribute worldwide? I'm sure, though, if you could obtain one locally, it would be far cheaper for you. I'm lucky, in that my local council is leading a campaign to clean up the environment and are offering them at £14.95 to promote the campain. Normally, they cost £69.95, so this is a very good, affordable price, and I'm seriously thinking about getting one. Brightest Blessings my friend, in the hope that you find a Digester local to you, and at a far cheaper price. Thank you for your contribution and have a nice day!


•
18 Apr 08
Yes, it does look a great product. I'm seriously thinking about buying one. They're green, so fairly unobtrusive in the garden, and my local council is selling them far cheaper, to promote a clean up the environment campaign. They're available to us at just £14.95. I don't know whether you can get one in your country, but I'm sure if they were available, they would be cheaper there, than here. Brightest Blessings and thank you for your contribution.



• Garden Grove, California
18 Apr 08
It sounds like a very good idea thats time has come but my question is how much does it cost? I am on a very limited budget and it does not allow for many frills .Of course it would help the environement and there is no question about that at all. HOwever is this something that can be used in an average apartment and how large is this waste digester?