Do you like ugly pets?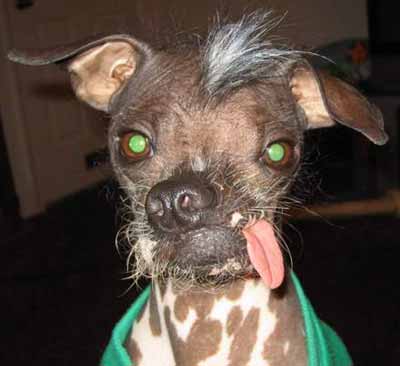 India
8 responses

•
20 Apr 08
i like yourself have seen some ugly pets, but saying that ive also seen some dam ugly people too! lol i used to think that i wouldnt have an ugly pet but now i think as long as the animal has the temprement i want around me and my kids i couldnt care what it looked like. after all looks arent everything

•
20 Apr 08
sorry off topic but miss on msn now!!! sorry beccas really ill I wasnt ignoring you xxxx

• Canada
21 Apr 08
well I don't like turtles I think they are ugly, but I love dogs and cats so I don't care how ugly they are I love them.

• United States
21 Apr 08
I've seen those ugly dogs in the ugly dog contests. I often wonder about them. Do people actually try to make them ugly or pick an ugly animal to get attention? I think these people are different from those wonderful people who adopt abused or handicaped animals.

• United States
21 Apr 08
hello, what do you mean ugly? physically or natural look? i asked this coz some sees a handicapped animal to be ugly coz they dont look normal be it natural or caused by accidents or mistreatment. or some animal fall to ugly "slot" coz they look strange. either way, i dont care what my pet looks like. i will love and care them the same way i will take care and love my own family. i think beauty lies in the eyes of the beholder so we will see it differently and what beautiful to me may not be for you. takecare!

• United States
20 Apr 08
I just love dogs period. I had seen a Chinese Crested (which is what the one in your pic looks like) at the Humane Shelter. I thought that is such an ugly dog. Well I sat down and he jumped in my lap. I fell in love with him right away. He was so warm and sweet. He wasn't up for adoption though so I couldn't get him.

•
20 Apr 08
Well I've got a couple of Plecostomus Cat fish, 5 frogs and some shrimps that some people would consider ugly, but to me they are beautiful! All creatures are beautiful to someone. I've also a very beautiful German Shepherd and 2 cats. One is a distinguished looking old gentleman and the other is one of the cutest tabbies I've ever seen. She's also the smallest Cat I've ever owned and at 4 still looks like a 9 month old. My sister has a Pug which I think is quite ugly but she loves him and thinks he's cute! It's true what they say, "Beauty is in the eyes of the beholder!"

• United States
20 Apr 08
When i got my cat and my dog they were very little...My puppy was 7 days old,and i feed her from a bottle,we resuced her from a ice storm...I loved her from the start..It turns out that she is cute.If she had grown up to be real ugly i would not have loved her any less...My cat turned out to not have a tail and hes pretty to me,because i love him...You love them for who they are,not what they look like..Of course i am glad they are cute but if they had been very ugly it would have made no difference...People who refuse to accept their pets if they grow up to be ugly,are nOT good pet owners and do not deserve a pet....Some people do the same thing with their own children,they seem to love the smartest one the prettiest one best,these are not good parents....You go by LOVE not by looks....

•
20 Apr 08
Haha my sisters dog is so ugly she is actually kind of cute!! her bottom jaw sticks right out so she always looks kind of angry lol and she truely didnt get any pretty genes from her mummy and daddy but she makes up for it in personality