Do You Like To Cook Out On The Grill?

United States
8 responses

• United States
20 Apr 08
Nothing can beat the taste of food cooked in a charcoal grill. Specially if you add the smoking chips for certain foods. We took whole turkeys/chicken, burgers, hotdogs, venision, roasts, etc etc. Last night it was poor boys, tonight it's going to be smoked sausage and italian sausage. Some of the italain sausage will end up being cut up for meat in spagetti sometime this week. I did that the last time and my family raved over it.

• United States
21 Apr 08
Yes, you are right everything is better cooked on the grill. I like things smoked also. Oh you are really making me hungry now, I love the Italian sausage and smoked sausage..

• United States
21 Apr 08
-giggling- Still hungry? Made the spagetti this am using the italian sausage I made last night. Absolutely divine. Oh, and thank you for the best response.



• United States
21 Apr 08
I do ot too much like to get the grill started either but I live alone, so if I want to cook Iout i must do it..

• Philippines
21 Apr 08
i love barbeque. we grill fish too and corn. i even watch bobby flay's shows just to see what else can we grill. i agree with you that food taste better when it is grill because it cooks with its natural oils. shrimp too and shell fishes are so good when grilled.

• United States
21 Apr 08
Oh we too cook fish and corn on the grill. Corn is at its best on the grill.

• Philippines
21 Apr 08
Oh yeah! I do love cooking out on the grill! This is something I really enjoy especially when my friends are around. We would grill on hours end. Hamburgers, hotdogs, steaks, chicken, ribs, pork chops... name it! This is also one thing we do when we go out for a picnic at the park or at the beach.

• United States
21 Apr 08
Yes, always better when you have friends and family around. And the grill is really just getting ready when all the food is done!! You can take a grill anywhere, beach, park,etc..

• Philippines
20 Apr 08
I absolutely, 100% love it! The taste is heavenly and the aroma of something that's cooked off a grill is to die for. Also, it's easier to prepare and requires minimum amount of work to grill food.

• United States
21 Apr 08
You are right, the taste and aroma is out of this world..And it is so much easier, in the summer it also does not heat up the house!!

• United States
20 Apr 08
yes i do like to grillout in the summertime. i too think that the food does taste better if it's grilled on the grill. We've cooked a lot of the foods that you mentioned too on the grill. So good and tasty and especially if you are using the charcol.

• United States
20 Apr 08
Yes, you are right the charcoal does make it taste much better.

• United States
22 Apr 08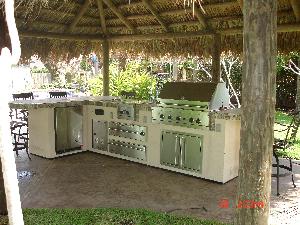 Last year we installed an outdoor kitchen. We enjoyed it so much. I have found I end up cooking so much more outside now. Not only is it fun and the food is great, but I've saved so much money from cooking in my outdoor kitchen. It makes a big difference when the weather is warm. The heat from the indoor kitchen doesn't heat up the house anymore.