How HIGH the price of OIL?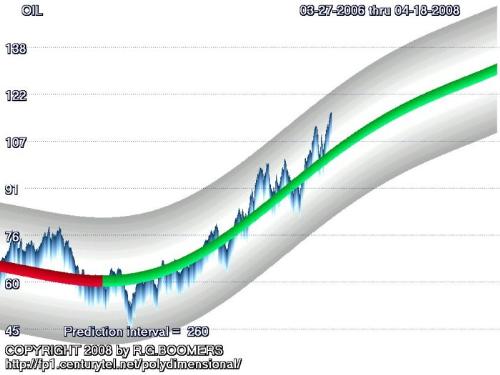 United States
April 22, 2008 8:32am CST
Certainly this is a fair question. There is ample discussion of the topic here. http://www.businessweek.com/bwdaily/dnflash/content/apr2008/db20080421_325349.htm To see a projection of oil prices for the next 1 trading year, click on the attached image. What are your opinions on the price of oil? Do you think it will continue to rise? Will you be surprised if the price drops some? But then bounces back up? How is rising oil prices affecting your life through increased gasoline costs? Do you find the attached chart useful or believable?
3 responses

• United States
23 Apr 08
The only thing I could see having an impact on the oil price trend is significant growth and implementation in alternative fuels, (or a change in oil dependency/lifestyle of oid dependency). Feel free to insert: "We're doomed" here. There is plenty that could be done even in terms of oil harnessing, but that won't happen due to environmental (well more political concerns than environmental... gotta love those empty flapping head shills). Beyond this, oil demands for world supply will increase due to population and accelerant lifestyle(its tough doing this while under the weather). How will it effect my life? Just paying higher at the pump. There will be a time when I'll simply say to work, let me do some of this at home... as plenty of work revolves around a computer. In terms of other citizens, I know they'll feel the hurt... but so many of them live in a way that is fully dependent on gasoline and the automobile. It would take something staggering to even evoke a voice or mindset of change overall. The cost would be enormous... but so would the constant paying of high gasoline (and I'm reminded of politicians and their half-thought plans to raise gas taxes by $0.50-1.00+ per gallon...) Side event: for those that don't know, other energy prices are rising too. Coal being the most notable one... Electricity bills will shoot up in the coming months for plenty of households (but the only positive side is that stateside is approaching this with summer and not winter heating). Hmm... maybe not. Power grids were strained in previous summers (blackouts from a couple of years before). I hope there isn't too much of a mess for this either.

• United States
23 Apr 08
The long story short is that there is no end in sight of this mess. Unless a new energy source is invented. Want to get rich? Here's the way to do it!

• United States
23 Apr 08
Well besides improving solar and improving nuclear we've already had a hand in your idea haven't we. Antimatter power may seem very unlikely... but if it was understood further and reproduced far cheaper... there's some money right there. Plus there is hydrogen and nuclear fusion. There is a lot of opportunity on the lucrative side, but vast improvement of quality life is a wonderful result too.

• United States
23 Apr 08
I think the high oil prices affect everyone, because it costs more to ship everything, everything that has to be shipped will go up. Because it costs more to run buses and airplanes, those tickets will go up. Etc., etc.,.... I know it affecting my family when it takes 1/5 of our income just to drive to work and pick up the kids from school.

• United States
23 Apr 08
Wow, 1/5 ? Way too much! My wife has such a long commute we are considering moving closer to her job, but if it was costing 1/5 of our income just for gas, we'd move now, for sure.

• United States
23 Apr 08
Hello Red, This oil situation is a full-fledged crisis, from my point of view. The global economy runs on oil. As such, I find it preposterous that oil is still a betting medium on the commodities marketeers. Although I'm not a fan of government intervention, I have long been clammoring for Congress to legislate oil out of the commodities market. Oil is a necessity, on pretty much every level. As such, it is a national security issue, and cannot be equated to orange juice and coffee. Because oil is traded on the futures market, it is being subject to the wild & wooly antics of day traders, and the nervous ninny reactionary practices of people who are betting on calamity. Geesh, I've known futures traders who were such maniacal gamblers that they would bet on the color trunks that a boxer would wear to a boxing match. Without question, I believe it's terribly foolish to subject our national economy, and the global economy to the whims of gamblers! As it is now, the day traders ratchet up the price of a barrel of oil for a profit. When they do, the oil companies profits soar, as does the federal governments profit -- by way of increased tax revenue. So, while our Rep's in Congress claim to 'feel' for the little guy, they seem oblivious to the fact that regulating oil, without regulating the business practices of the oil companies, is not only possible, it is a necessity. Remove oil from the commodities markets. Level it with any other for-profit venture, without giving gamblers the power to destroy the economy. Geesh, silicone chips aren't traded on the commodities market. NFL jerseys aren't traded on the commodities market. Why the heck is oil traded on the commodities market? Extracting oil from the future's arena will return the oil business to the arena of true supply & demand. As it is now, supply & demand have little to do with the price of oil. Will I be surprised if the oil bubble bursts? No, I won't. I hold a bit of MRO -- it's one of my favorite stocks right now. So, I pay close attention to the market, and particularly how MRO relates to the big dogs. In the 1950s the largest deposit of sand oil to ever be discovered in the USA, was found in the Dakota's. This is in addition to the shale oil found in Wyoming, Colorado, and Utah. MRO invested big bucks last year into Dakota drilling rights and the acquisition of oil fracturing equipment -- based on the hydrofracture drilling technique. They, as well as others, are poised to take advantage of the Dakota oil reserve. A pipeline project is in its early stages through the Dakotas, and a refinery is on the project block for the area. What's interesting is that MRO has projected that they will be able to extract that sand oil for about $3/barrel. Mind you, this is just the extraction estimate. Though, if a refinery and pipeline are all going to be in the region, then I'd say that we will see the per barrel price stabilize, then drop. My guess is that the price will settle at around $2.25 per unleaded gallon (just a guess based on the cumulative costs of extraction, refining, and transport), though that's a far cry better than 3.50/gallon. All of us 'little people' need to be hammering Congress to extract oil from the commodities market. It is the only way to stabilize the industry, and the economy.

• United States
23 Apr 08
Oops! That should read: "still a betting medium for the commodity marketeers." Also, I forgot to mention the charting. I read the article, but did not see the chart. Perhaps it is accessible by a link, that I am not seeing. I just checked again, and I'm still not seeing a link to the chart. If you would be so kind as to point out the link, I'd sure appreciate it, Red. Regardless, I don't see how it's feasible to accurately chart the actions of irratic gamblers. There are so many variables to consider -- and we both know that human behavior remains in the realm of the unpredictable. Frankly, I would have imagined that the newest, massive oil discovery in Brazil would have had a lowering effect on the price per barrel. Though, my guess is that day traders are doing their utmost to get as much profit out of the instability of the War on Terror as possible, without due consideration to the news of new oil finds, and new efforts to bring USA oil to the market.

• United States
23 Apr 08
In a free society, trade in any kind of commodity, oil included, (to include futures,options, and derivatives) must be allowed. Not that I deny your point about 'gamblers' having undue influence on the world's economy and oil. There is an alternative solution to taking oil out of these markets. I think what follows makes perfectly good sense, but so far I'm a minority of 1, just like my star! Here's my proposal and reasoning. The capital gains tax break makes good economic sense to me. I will not now make the arguement for it, I believe most knowledgable people are for the capital gains tax break. So, let's take that as a given. Well, if giving a tax break for holding an investment for the long term is a good thing that deserves a reward, why can't this logic be extended to its conclusion? That is, holding an investment for the short term is a bad thing and deserves a punishment! I would revise the tax code so the capital gains tax is still based on the time an investment is held, but that for very short time frames the tax is higher than normal taxes. A simple linear function could function to serve to calculate the rate of tax based on the time an investment is held. Presto, suddenly, not only is short term speculation in oil unprofitable, so is short term speculation in anything! And we retain the benefits of a tax break to longer term investments! This is not an exactly new idea with me. I sent this proposal to the first President Bush when he was in office. I actually got a nice reply from his staff that they liked the idea, but it was basically politically impossible. I believe when people put their heads to it, there are solutions to most problems except the one of how to get the solutions implemented.

• United States
23 Apr 08
Apparently, the posted chart of future oil prices does not appear on some myLotters computers. Here's a link where it can also be found. http://fp1.centurytel.net/polydimensional/miscellaneous.htm