Warrantless Searches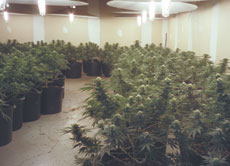 Canada
April 22, 2008 11:50am CST
In Surrey BC they are running a pilot program to target grow ops. The program targets homes with higher than normal power consumption. Of 6,000 homes on the list 1,000 were targeted for warrantless searches prompting the incident described here: http://www.canada.com/theprovince/news/story.html?id=ac487d65-af04-4159-9e8c-ce1bf4fadbc9 Do you think the city of Surrey is justified in these searches? Or are they crossing the line? Would it make a difference if the person in question did not have a history of drug charges and links to the Hell's Angels? Is this a case of a criminal demanding rights, or is this a case of the police abusing their powers?
4 responses

• Olney, Illinois
22 Apr 08
I don't know anything about Canadian law being as I live in the US, but I would be opposed to this type of search no matter where I lived. It even says nothing was found, so why do the cops think they should be able to use the "electrical usage" of a home to come in? I know here I would not allow them entrance without a properly executed warrant, regardless of if I had anything to hide or not. It's a matter of principle with me.

• Canada
22 Apr 08
Canada does have laws that protect its citizens from unwarranted search and seizure, and a large part of the issue is if this was such a case or not. And I agree it is a matter of principle, this couple was well within their rights to refuse police entrance and yet, despite no evidence of any illegal activities they had their power cut.

• Canada
22 Apr 08
I think the city of Surrey has stepped over the line. What a load of crap. I think it is a case of cops abusing their power yet again. It blows the mind that they don't just legalize and let BC hydro make a fortune along with the whole province having a huge tax base to draw on with the legalization. But alas this province and country is too afraid of how the damn Americans will react to legalization! This whole issue really annoys me...

• Canada
22 Apr 08
At one time, not too long ago actually, I would have been alright with the police requesting a warrantless search in my home. My main mode of thinking being, "If I'm doing nothing wrong, then why does it matter?". However, my attitude has changed greatly, largely with influence from a certain friend of mine. The only thing that this family in the article has done "wrong" in my eyes, is that they were using more hydro than considered the "norm". So to me, all that makes them guilty of is being environmentally UNfriendly. One way that Ontario hydro suppliers have tried to influence customers to cut back usage, is to charge more per kilowatt after a base amount of usage per month. Considering that only one of 1000 homes that were searched for grow ops based on the high power usage was actually found to have a grow up, shows me that this strategy of theirs is ridiculous and far from cost effective.

• Canada
22 Apr 08
I agree, a 0.1% success rate is nothing to brag about. The strategy is obviously flawed. The "if I'm doing nothing wrong, then why does it matter?" thought process is dangerous. After all if you are doing nothing wrong then what's wrong with the government listening in to your every conversation, or having to submit a request to leave your house at night. If you give up your liberty to ensure your security you are allowing yourself to become a slave to the state.

• Canada
22 Apr 08
You sound a lot like my influential friend.

That last line is extremely powerful... is it yours?

• Canada
23 Apr 08
Warrantless searches are against our civil liberties and should remain illegal. I agree with them that the police had no right to search their premises. The fact that the couple allowed Hydro Inpspectors in and they found no grow op should have vindicated them from any wrongdoing. I hope the courts strike down this law to target high hydro usage. With only 1 in 1,000 found to be a grow op, that is certainly not enough to justify illegal, unconstitutional searches by the police. What are we, Nazis? I sincerely hope our justice system (the courts) grant this couple damages for the loss of use of their home for the 5 days their power was cut off, the inconvenience and Hydro should be fined for cutting off a 'necessary service'.

• Canada
23 Apr 08
I agree. The courts should definitely award them damages. What the city of Surrey is allowing is essentially a police state, and I don't think we want that. The courts should order the city of Surrey to cease and desist all actions in this program and pay for any expenses the couple incurred during the power cut off as well as all legal fees. If the city safety inspectors and Hydro officials were not trained to identify signs of a grow op they shouldn't have been involved at all, and if they were then it should be proof enough that the couple was not involved in a grow op and the actions taken against them were not only illegal but a gross misuse of government powers.