Cat's on anime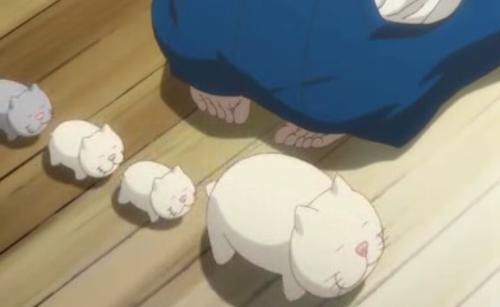 Philippines
April 23, 2008 6:24am CST
Name as many anime series as you can think of that has character or a pet or a cat that always wander around? And why do you think they put some cats on their anime? for me as far as i can remember. 1. trigun 2. bleach 3. eto ranger 4. POT 5. bamboo blade 6. d.gray-man 7. fruits basket 8. yaiba 9. sailormoon 10. hunterxhunter
8 responses

• Philippines
23 Apr 08
1. Sailormoon - Luna, Artemis, Diana and Luna B (although Luna B is a machine ^__^;;) 2. Prince of Tennis - Karupin!!! kawaii no karupin! i want to have a himalayan cat like Karupin! ryoma is so kawaii when he's holding karupin and when he's worrying about his pet! 3. Daa! Daa! Daa! - i think Wanya is a cat ^__^;; 4. Cardcaptor Sakura - can't remember the name of the black cat there which is the opposite of kero-chan 5. Naruto and Naruto Shippuuden - the pet of a rich lady who got lost and then caught by naruto's team and then by... who was that boy who regards Naruto as his onii-chan? i can't think of any more animes with cats but i'm sure i have seen a lot of them here and there. but i didn't know there was a cat in trigun! can't remember. ^__^;;

• Philippines
23 Apr 08
heheh, there is, the black cat that has a big eye if i'm not mistaken, but it's a black for sure.. hehehe

• Philippines
23 Apr 08
hmmm.. yeah.. its vague but i can see a little kuroneko in my head. ^__^;;


• Canada
23 Apr 08
Clannad has a few cats. Two I can think of anyway, it also had that little baby boar. Rental Magica has a whole bunch of them. As to why they're there? Well... I do know they [Japan] have a few myths and legends and junk that revolve around cats... aside from that it's adding a little bit more realism into the show. I mean it's pretty common to walk down the street and see a cat wandering around, or a dog, but usually cats more often than not. People seem to take a lot of precautions to stop dogs from running around town but no-one does for cats...

• Philippines
23 Apr 08
there's a cat in Clannad? i just recently watched that anime but i can't remember any cats there! when did it appear? whose cat was it??

• Philippines
24 Apr 08
thanks, for the response, hehee, i guess i'll add clannad, well i have watch the first episode but i still have no time to continue watching... heheh

• Philippines
24 Apr 08
hmm i think its cute, thats why they put neko in anime.

well there are many anime that has cats, ill try to name some hehehe bishoujo senshi sailor moon card captor sakura ouran high school host club naruto bleach slam dunk magic knight rayearth ranma 1/2 dragon ball (all series) inuyasha yuyu hakusho tennis no ojisama

• Philippines
24 Apr 08
err.. one more thing, in pokemon theres meowth



• United States
23 Apr 08
Plenty of animes with cats or cat instances in them Da Capo - A cat named Umeatsu follows around one of the characters, Sakura Yoshino Pani Poni Dash! - A weird cat calling itself "Kamisama" torments the bunny in that anime Sailor Moon - has the two cats plus a third one later on Zero no Tsukaima (Second Season) - The middle older sister has several cats and dogs Spiral no Kizuna/Circle of Reason - A stray cat is cared for by several characters To Heart - One character, Kanoe, cares for a cat but thinks she got it hurt, the main characters help out the cat and convince her otherwise Digimon - One of the creatures was a cat creature, Gatomon Shuffle! - One character, Primula, has two plushie cats. One was received from an old friend, the other was won by the main character.

• United States
24 Apr 08
The Melancholy of Haruhi Suzumiya - Kyon's little sister has a cat that appears on occasion and in the ending credits Lucky*Star - Konota Izumi is constantly drawn in "cat" format Kanon - A stray cat is adopted and cared for by Makoto, the cat is named Piro My Neighbor Totoro - There's a very large and obvious "catbus" (can't believe I forgot it last time) UFO Princess Warukyrie/Ultramaiden Valkyrie - The maid Sanada is a cat-girl and as her first act of royal service on Earth...she proceeds to turn every girl in proximity into a cat-girl too. Clannad - the landlady does have a cat Loveless - All children have cat-ears and tails Ranma 1/2 - Shampoo is transformed into a cat when exposed to cold water Azumanga Daioh - this anime has Kamineko the cat and Mayaa the Mountain Lion Nagaserete Airantou - One of the kings of the island is a two tailed cat. Another is a large antromorphic tiger Pita Ten - Shia's pet cat Nya Kamichama Karin - Karin's adopted pet is a cat named Shii Cardcaptor Sakura - the cat Suppi

• Singapore
24 Apr 08
Code Geass Actually, its harder to name animes where you can't find any cat instances. lol.

• Philippines
23 Apr 08
i don't have any idea why they put a cat lol here are some of the animes that i've seen some cats 1. sailor moon 2. trigun 3. chobits 4. eto rangers 5. hunterxhunter can't remember the rest haha lol