Linkin Park n Rock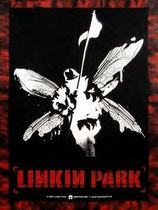 India
April 24, 2008 10:22pm CST
The band Linkin Park according to me is the best band..It raised the hell with it's Hybrid theory in the first and throbbed the intrests of people with Meteora and Minutes to midnight. This guy has led to a new generation in Rock Metal and Hard Rock.Some of ma favourites from LP are Numb,Crawling,In The End,Breaking The Habit,Runaway,From the inside,A place For my Head,Easier to run,What I've Done,Valentine's Day,My december.. would be pleased 2 know abt your comments n ne valuable info...
2 responses

•
25 Apr 08
Linkin Park are one of my personal favourite bands. Many of the songs you listed are on my list of favourites as well, except I would have to add One Stop Closer to the list as well. In January, I had the chance to see them live, but I couldn't get a ticket!! I was so annoyed, as they don't play in the UK often. But next time I'll definitely be ready!

• India
25 Apr 08
hehe yeah, but i feel that this band has really changed the music lovers, it led to a new era which does not have any boundaries.Apart from that i would also like to know about your other favourite artists and songs in particular .Some of my other favourites are Boulevard of broken dreams-Green Day,Unfaithfull,umbrella-rihanna,evrything i do,here i am-bryan adams and many more .. Although they are a bit older but i just can't resist listening to them. What are the songs you feel that are'nt forgettable..i am a die hard music lover buddy and adore all beautifull songs.

•
25 Apr 08
I really like the band Rise Against. Some of their songs are quite average, but a lot of them are really good. They even have good and meaningful lyrics. I think my favourite songs from Rise Against would be Paper Wings and Like the Angel. Also, their acoustic song Swing Life Away is good. I really like the band +44 as well. I know that a lot of people only know +44 through blink-182, but I'm honestly not a huge fan of blink-182. However I like the overall sound of +44, and the lyrics are meaningful,

• United States
27 Apr 08
My favorite song is What I've Done in Minutes to Midnight. Minutes to Midnight is the only album I own right now but Lincoln Park is a great band.