Ohhh my back!!!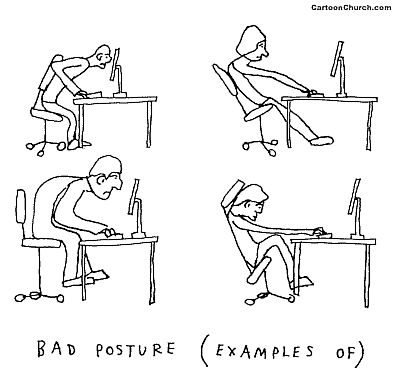 Romania
April 25, 2008 7:59am CST
I've been spending too much time in front of the computer! My back is killing me and it even hurts behing my neck. My muscles are all tense that when i get up i am stiff as wodden stick. I know it's all about my position but i still can't find a comfortable position for the PC. I moved my chair up and down and the desktop so many times and still nothing. Now because of my back my feet get cold really fast and my hands too. Is there a remedie for this? How can i relax my muscles after a whole day in front of the PC?
1 response

•
25 Apr 08
I am sorry I don't know the answer, but I have also been getting back ache the last couple of days. So I can empathise with you. If there is a good answer I will also be interested to hear it. I put mine down to the fact that I had slept awkwardly. It probably was that for me, sometimes I curl up or stretch in the night and that is what caused it before. Of course being on the computer for any length of time doesn't help either. Hope you feel better soon, and find a good remedy. There is a product called ibuprofen cream (or similar) it has has worked for me in the past, but I do not like the smell and it burns a bit. A nice warm bath can also help with radox salts or something like that.