Please help find my friends' friend's grandson.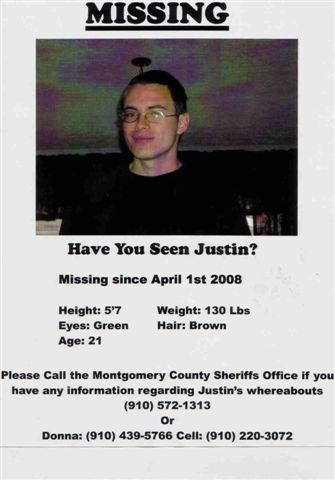 United States
April 25, 2008 11:05pm CST
This is not a hoax. I wish it was. My grandson Justin is missing. This is the flyer that has been distributed. Please pass it on to everyone. Thanks so much. He lives in North Carolina, but maybe by passing this on, someone there, or anywhere, might know something or seen something. Denise Jo and Don Justin's Grandma and Grandpa If anyone sees him or can pass this along we would appreciate it. Thanks ever so much ~Icy~
4 responses

• Singapore
26 Apr 08
Noted will try to inform you if i had found anyone here that looks like him

• United States
23 Jun 09
I hope that your grandson was found. I can't imagine the grief that a family goes through in a situation like this. I can't imagine how I would feel if my child was missing. Did they find him? where had he been? How long has he been gone?

•
26 Apr 08
Hi Icy-zi hope your grsndson will be found safely-how old is he? blessings littleowl

• Dominican Republic
26 Apr 08
Oh icy, this is horrible, I am so sorry. I hope he is found. There must be other sites that you can post this on. Your web pages too? Good luck honey!