horror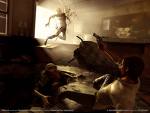 April 26, 2008 4:45am CST
you are the last person in the earth ..somebody knocking your door ... what would be your reaction?
5 responses

• Philippines
26 Apr 08
i think i would be surprised and happy at the same time that maybe, another human being is alive and would be with me. i would also be afraid since ive been thinking that i am the last person and the one who is knocking may not be exactly what i am hoping for.


• Singapore
26 Apr 08
Well i open up the door to see what is it , i have no fear after all i am the survivor yea , i will be king of the world yea .

• Philippines
26 Apr 08
If its official that I know that im the last person on the earth. I would peep out and see who or what it is. And Ill get some kind of weapon to defend myself with because logic tells me if the person or thing knowcing is really a person and he or she knows or thinks that he or she is probably the last person like me, then I wouldnt think that they will still knock, right? another decision might be is to just find a really good hiding place, find some sort of weapon to defend myself with and then just wait for the otehr person or thing to just enter and see what he want and what he will do inside my house. If it is a person ill still observe him or her if he or she is a good one or a bad one becasue for all I knwo hes the one murdering all of those people in the world that I became the only one left. This question reminds me of the mvie I Am Legend. I havent seen it yet and I would most definitely want to see it in the future. At least the main character there had a dog for a companion. Maybe the dog is the one who is sort of knocking on my door.^_^