What is the MOST MEMORABLE place you have visited? Did you really enjoy?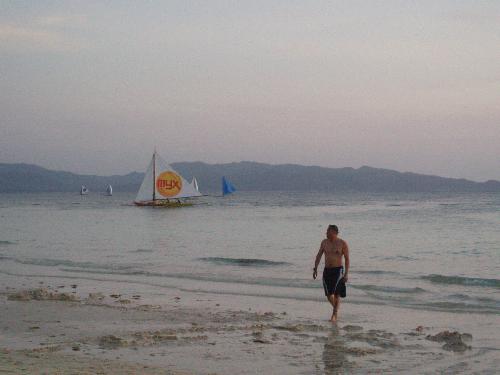 Philippines
April 27, 2008 10:36am CST
One of the most beautiful place i ever visited is Boracay, it known as "white sand beach". It is really interesting to visit this island, you will really enjoy swimming in a clear water.It has also the beautiful sunset to view. Many people from different countries go there just to see the island.
6 responses

• Philippines
27 Apr 08
The first memorable place that I travelled or visited was Singapore in 1996 coz it was the first time that I travelled with my kids to be with my hubby, sis and brother who were all working there before and spent christmas and new year there. The 2nd memorable place/ country that I visited was Canada coz its the first time that I experienced winter or snow there and had seen the beautiful places there like Vancouver, Niagara Falls in Ontario, Victoria, Montreal, Ottawa, and other cities of Canada. The next is Malaysia when I travelled to be with my hubby last year and spend time alone with him without the kids. Here in the Philippines, the memorable places I had been to are Baguio, Cebu, Bohol, Pangasinan, Bicol, La Union.

• United Kingdom
27 Apr 08
The most memorable place that I have ever been to was Tikal National Park in Guatemala with its Mayan ruins and temples. I loved its jungle setting and seeing the rich animal and bird life. I so enjoyed exploring the paths and then walking up to the top of the Mayan ruins. I walked through the jungle in the dark and then climbed the steep steps of a Mayan temple, sat down and watched the day begin as the sunrise happened in front of my eyes. The sky turned from black to orange, purple and then blue. Wow! I saw a couple of green parrots fly past and then I heard the chatter of some monkeys. I really adore seeing tropical beaches and islands so I would love to go island hopping in the Philippines. It would be amazing to spend a few days on Boracay Island and swim in the aquamarine sea as well as do some snorkeling. I am sure that I would enjoy the magical looking sunset.

• Canada
27 Apr 08
We visited Venice two years ago. It was absolutely phenomenal. My husband still laughs when he thinks of the expression on my face when we first arrived. We did the last part of our journey by train. You pull into the train station, on solid ground, walk though the train station to this incredible world of water. It was absolutely amazing. I would love to go back again. Every side street you walked down had something different. The history of the city was so very interesting. I can't get enough of it.

• Philippines
27 Apr 08
The most memorable place I visited so far is Baguio. It was worth remembering because I went there with my wife. that was the first time we were able to go in Baguio with so much stunning place there that we visited. I hope to visit Boracay also soon...

• Canada
27 Apr 08
On the west coast of Vancouver Island,BC,Canada,there is an internationally-known hiking trail called The West Coast Trail.The highlight of the trip for me was always when we got to Tsusiate Falls .The water only plummets about 60 feet or so,but it landa on the sandy beach less than 100 yards away from the Pacific Ocean.The wall of the Falls has a small cave you can go into and just watch everything from the inside.The surge of the ocean with the sounds of the waterfalls and the warm sun shining down on it made this jewel a place I will never forget.I have made this trip 21 times and want to do it ONE MORE TIME as it has now become very commercialized since being taken over by the federal government.

• Philippines
28 Apr 08
wow that really an unforgettable moments, I am not familiar with that place, but based on what you have observed, i can picture out that placed, with its its falls, and a cave. it is really interesting go their. Imagine you made 21 trips on that particular place. And I think there is something special that you cannot find in other places.

• United States
28 Apr 08
The most memorable place I have visited is Mount Rushmore in South Dakota. It is a place where four of our presidents faces have been carved out of the rock. It is a place that shoots emotions right into my heart. I have always been proud to be a American but standing on the memorial just makes it hit home more. I have put a link here so that you can see the pictures I am talking about. These heads are carved out of the rock on a mountain. Mount Rushmore. Press this link and you will see a picture of the monument: http://www.mtrushmore.net/