Who loves animals lots and lots?

United States
November 1, 2006 9:02am CST
What animals do you love? What animals do you have? Are they family members, and not pets?
2 responses

• United States
1 Nov 06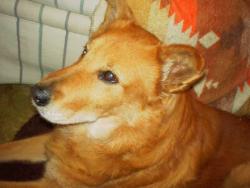 I personally love all animals. They are Gods creatures as much as we are and deserve to live happy lives. Right now we only have 2 cats. Charlie, a big white male and Misty or Sissy, which she gets more, a small black female. They are both very spoiled and very much a part of my husband and my lives and part of our family. We have had many dogs through the years too, but lost our Rusty a few months ago to cancer. Rusty was a stray. He was red and very beautiful and we didn't find out until we had lost him that he was a husky mix as we had thought, but a rare breed call a Shiba Inu. All we knew is that he needed us and we took him in and loved him and he loved us and his kittys. He protected them as his little brother and sister. He was a very loving friend to us and we have mourned for him terribly, as has his kittys. He will always be forever in our hearts.

• United States
1 Nov 06
I meant to say that Rusty was a Shiba Inu, instead of is, as he is gone, but couldn't figure out how to change that part.