Grapes are so great!Do you like eating?

China
April 29, 2008 6:13am CST
Autumn is purple,because I like eating grapes...lol... My grandfather have a vineyard,so I eat many grapes and I like grapes.I always select carefully so that it so great to eat.I cut some good grapes from vine and put them onto a platter to entertain gustes,and guests are always so happy. I like eating grapes and staying in vineyard. Do you like eating grapes?
5 responses

• United States
1 May 08
I loves grapes there one of my favorite fruts even though I dont have them as often as I should. I like both the green and purple grapes but I like the purple grapes better then the green they just taste better to me. My other favorite fruit would have to be strawberries because I love the taste of them. Now im in the mood for grapes lol.

• Philippines
1 May 08
Oh Yes! I wish we have this vineyard so that I can eat grapes anytime! lolz. I love eating grapes especially the ones that are seedless... ehehe. Oh, are you new here in mylot? Welcome to mylot~ Happy mylotting!

• Singapore
1 May 08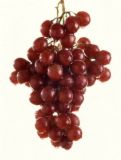 I love eating grapes! I like both white and red grapes, but i prefer red grapes as they tend to be firmer, jucier and sweeter! Also, I like juicing graps into sweet grape juice that can really be refreshing on a hot day! Grapes are full of nutrients and vitamins and it has been said that grape seeds contains minerals that improve health.

• Philippines
30 Apr 08
i like grapes too.....there are different types of grapes and the one that i like best is the purple reddish one...im not sure if it has a specific name coz im not really into that....but i like eating this fruit...