Do you send greeting cards??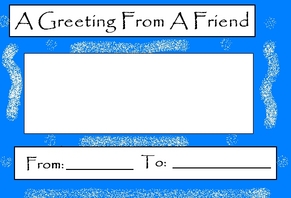 United States
April 29, 2008 10:38am CST
For what occasions do you send greeting cards? Birthdays, anniversaries, Christmas and others. I am really bad about sending cards. I either forget or just don't have time for it. My grandmother sends a card for every thing. She even sends one to my dog for her "birthday"! I think she has too much time on her hands LOL. I'm bad about cards period when I give a present I don't put cards on it. I normally take my marker and write TO: Suzy FROM: The "Smiths". So why do you or don't you send greeting cards???
2 responses

•
29 Apr 08
Im not too good either at remembering to send cards.Its someting that I think either that you are good at or you arent.I could have the calendar right in front of me and it would make no difference,I would still be forgetting those birthdays and anniversaries etc.I envy people who can remember them,and post the cars on time.Very often I have bought the card and written it out,only then to forget to post it,and a week later its still on my mantelpiece waiting to be posted.

• United States
30 Apr 08
I do the same thing. I have a "card" book that has a spot for each month you can put in the names on the dates of each month and if you buy a card early or whatever there is a spot to put the card. Do you know how many cards I have in there I haven't sent! Its horriable. I really need to get on track!

• United States
29 Apr 08
I used to never miss a birthday, and was pretty good at anniversaries too. Then I started slacking, and my nephew asked his mom what happened. So now I know they really appreciate it and I try to keep sending cards via snail mail...whenever I can remember.