Please, Sign The Petition To Stop This Creulty To An Innocent Animal....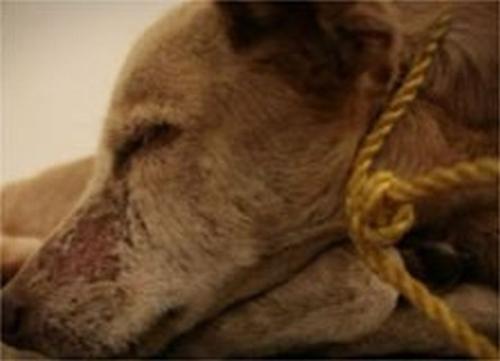 Australia
April 30, 2008 9:17am CST
received this in the mail today from a very dear friend of mine this morning. It's heart wrenching and I just had to post it here, in hopes that you will all sign the petition and help stop this creulty before it happens. Please, read below and sign the petition if you can. This is the email I received from her : "When I first heard about this, I thought, You've got to be kidding....but it's no joke! Sign the petition and stop this idiot. There are better ways to solve a problem than adding to it... Subject: Boycott the presence of Guillermo Vargas 'Habacuc' at the Bienal Centroamericana Honduras 2008 This is a very serious matter... In 2007, the 'artist' Guillermo Vargas Habacuc, took a dog from the street, tied him to a rope in an art gallery, and starved him to death. For several days, the 'artist' and the visitors of the exhibition have watched emotionless the shameful 'masterpiece' based on the dog's agony, until eventually he died. But this is not all... the prestigious Visual Arts Biennial of the Central American decided that the 'installation' was actually art, so that Guillermo Vargas Habacuc has been invited to repeat his cruel action for the biennial of 2008. PLEASE HELP STOP HIM. http://www.petitiononline.com/ea6gk/petition.html It's free of charge, there is no need to register, and it will only take 1 minute to save the life of an innocent creature. READ about this guy - http://guillermohabacucvargas.blogspot.com/ - he seems to be making a point in some way, however, the dogs out on the street MIGHT find a way to survive. The one inside did not." Also, please tell me what you think regarding his misuse of art and his cruelty to animals. I, for one, do not consider this art AT ALL AND UNDER NO CIRCUMSTANCES! I think this man should be punished for what he's doing and I just hope that if enough people sign this petition, we can stop yet another defenseless dog from this form of cruelty!
4 responses

• United States
30 Apr 08
I had this sent to me on myspace. This is totally wrong! I cannot believe that anywhere in the world this would be considered ok. Torturing an animal, starving a living thing is not art! And the fact that people came in and looked at this "exhibit" tears me up. I would have let that dog go, jail or no jail. I get so heated everytime I read about this!

• Australia
30 Apr 08
I completely agree, I would have done the same thing. It's disgusting and these people are inumane! Thanks!


• Trinidad And Tobago
30 Apr 08
I signed the petition. That is so cruel! Earlier in the year or maybe it was last year, there was a guy that drowned a kitten and filmed it and called it "art" Apparently it was praised by some as this situation is and many people were outraged by this! I am wondering if these things are really true but it doesn't matter. I still signed, it didn't cost me a thing to do so anyway.

• Australia
30 Apr 08
Yeah, it could be false but it's better to be safe than sorry. Thanks for signing anyway, I really appreciate it!

• United States
30 Apr 08
This is heartbreaking. I don't see how anyone could do this to an innocent animal. He must be crazy if thinks this is art. And you are right he should be punished and I will definatley sign the petition!!

• Australia
30 Apr 08
It's disgusting! Thanks, we need to do everything we can to put a stop to it before he does this to another defenseless animal!