Are you a BLACK SHEEP in the Family?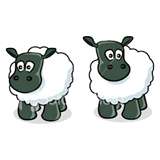 Philippines
April 30, 2008 11:27am CST
Family is the fundamental social group in our society consisting of one or two parents and also their children. We usually hear this idioms "Black sheep of the Family". We refer this to one member of the family who are totally different from his or her brothers and sisters. Example, one family has three children, of course the parents gave all what is best for their children, but only two of their children have successfully finished their studies. the other one did not make it, instead of studying, he is busy in drinking with his peer group and doing some bad things. I think we can say that he the black sheep of the family. How about you? are you one of that?
No responses