I buy a food from a canteen and while eating i saw a fly...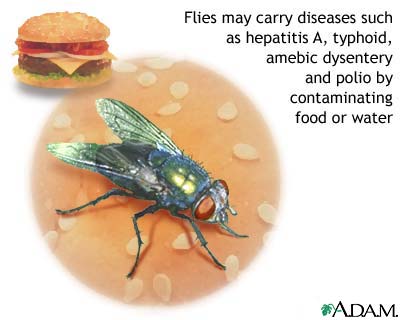 Philippines
May 3, 2008 7:18am CST
Yeah this is so embarrassing and first time happen to me. I've found a fly in my meal while eating and almost want to pull everything in my stomach when i saw a dead fly. My family doesn't know about it. I didn't tell them about this as i just put the rest of the food on the trash and pretend that i ate it all. Is this also happen to you? How did you get over it and did you tell it to your family?
5 responses

• Philippines
6 May 08
it also happened on my twice. first was when me and my friends were in the amusment park, i bought a juice and there was a fly in the juice that i'm drinking. i go back to the juice stall then i told her that there was a fly in their juice. i really wanna throw up that time. then second was when i bought a spaghetti from our school canteen then i notice that there was a foot of a cockroach on my spaghetti. that's really disgusting and good thing that i noticed first that there was something on my spaghetti. glad i didn't eat it lol

• Philippines
6 May 08
Good to know that you have a good eyesight to see the foot. And part of that we thank because we didn,t eat those creature and see it first, the worsen maybe is when we so the part and thinking that the other part of that cockroach or fly is already in our mouth.


• Philippines
4 May 08
this happens all the time to everyone i guess... more here in the country (phils) flies are everywhere. i am very particular with it though and i tell my mom if i see one so they will not eat that too.. i think that is spoiled already. flies are really dirty!

• Philippines
4 May 08
Hindi naman me maselan sa food, kumakain nga me ng kwek kwek, isaw at fishball on the street, pati calamares. LOL see i speak at tagalog. I already watch this thing happen in television but now that i had an experience regarding this, it feels so disgusting and if only i can remove all the food from my stomach. Now i understand them, why are they so mad. But not totally as mind because, i think of different reason to calm my self.

• United States
3 May 08
I once found a worm in food bought from the grocery store...it made me want to throw up. I've never found a bug in food from a restaurant but once I was eating some mushrooms at an Asian buffet and started chewing on a big piece of metal. I was scared because I almost swallowed it. We told the manager and he just said "sorry" and didn't offer to give me my meal for free. I never went back there.

• Philippines
3 May 08
Hello. Not with food but with chocolate drink from the vendo machine! When I sip it, I notice that there are some broken "thing" something in my drink, when I look closer... oh my... so many "ants" there. I just throw my cup. No I didn't tell my family regarding about that. I really didn't get to drink the drink anyway, I just sip a little when I noticed it. I just got to be careful next time coz you'll never know what's in their... awww... Cheers!

• India
3 May 08
It is a common scenario for everybody. An englishman, Indian and a chinese went for a restaurant and ordered for the food. Coendidentally there was a fly in all the three plates. Englishman cancelled the food with fly and ordered for diffrent dish. Indian threw the fly away and started enjoying his food, but the chinese kept the food aside and ate the fly alone.

• Philippines
3 May 08
Ah maybe i am so careful about my food and yet this is the first time, then up to the decision never to buy food from untrusted one. I cook by my own but ofcourse there's always an exception in every rule and excepted are those great restaurants which damage them seeing a fly in their dishes.