i would like to touch the nose of a roaring tiger......

India
3 responses

• Singapore
3 May 08
I do not what to say actually but my best bet is you can touch a tiger. Roaring..i am too sure. You can visit thailand though, they have buddhist temples which takes care of tigers. The monks and tigers actually play togather. So maybe if you can take trip to one of them you might get your wish.


• China
15 May 08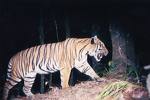 Hello sikkujoy. I think that it is ok for you to touch the nose of a tiger provided that it is a trained and tamed one like those in a circus. I once went to see animal performance in a circus and there were around ten tigers and they were all very tamed for the trainer to touch them. So I think that in that case, there is no problem for you to touch the nose. Something more to add. When I was there, they also offered the audience to take a photo together with the star tiger, but I did not dare to go close to one and gave it up. Thanks for your discussion.