Do think the Loch Ness monster or Champ, or any of the lake monsters exist?

United States
November 1, 2006 12:23pm CST
I like to think that these things are real. It makes life so much more interesting!
5 responses


• United States
1 Dec 06
Hi! I totally believe that the Loch Ness monster exists. My thinking is that some lakes and portions of the oceans are so deep that there are species, even from the prehistoric era, that have survived and that we've never seen or even knew existed! I think it's entirely possible that Nessie and other lake "monsters" exist!


• United States
21 Nov 06
I'd seen one of those... i was actually touching it.. next thing i knew it was just a dream... whew

• United States
20 Nov 06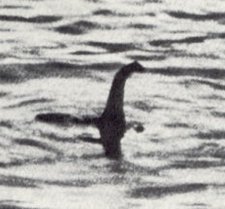 I belive that the Surgeon's Photo hoax put an end to the Loch Ness Monster. As for Champ and Ogopogo, they might exist but not as monsters. Many cryptozoologists believe that they are just a new species of eel or something like that.