One Big Happy Family...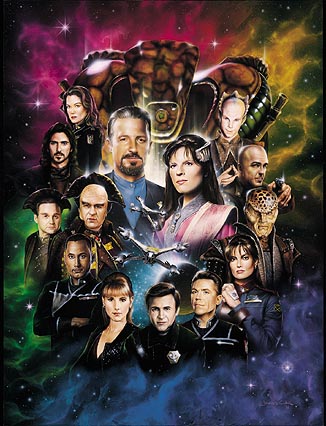 United States
May 4, 2008 1:02pm CST
My Hubby loves watching Babylon 5 and I'll admit that I don't mind watching it sometimes too. Some ppl may not know what I'm talking about so I'll explain. Babylon 5 is a sci-fi program that is about a space station where all kinds of different species live together. All of these different species come from different planets. It got me to thinking. I wonder how it would be to live like these ppl. On a space station surrounded by other species so different then myself. Ppl these days still have trouble accepting someone just b/c their skin is a different color what if they were a whole other species. I think it would be fascinating to learn about so many other types of cultures and beings. Could you live on a space station like that? Could you over look something as major as species? Could you treat someone that different as a friend, maybe marry them and have children? Or would it not make a difference at all? **AT PEACE WITHIN** ~~STAND STRONG IN YOUR BELIEFS~~
8 responses

• Australia
6 May 08
I think that series is set way in the future...yes? As a race, we don't tolerate other humans very well and some are viscious and cruel to other species who are considered lower than us...like domesticated animals, worlking animals and wild animals. I just don't think beings from Terra Firma are ready for this sort of thing at this time. I don't think it will happen for a long time. We have to unlearn some deep set values and habits and standards befor we attempt to learn new ones.


• United States
5 May 08
I could not live on a space station... wide open spaces for me... land of the free... where the buffalo roam... let me out of the house! LOL We actually go out back and shoot off the shotguns! you know... gotta have your room! LOL

• United States
5 May 08
I have no trouble feeling oneness with all many different.. it sad but if it wasn't race, faith, etc.. humans would find other things to be divisive over.. hair color.. anything really.. I don't know as I'd marry out of my species however, as that has never brought offspring (here on planet earth that is.. no cat dogs etc..) - besides if everyone did it, and there were offspring, we'd end up with only one species! and all the other beautiful species would disappear! That cannot be good! Especially as it wouldn't solve differences we humans would just invent new ones.. as it's not the differences, it's human nature that's the problem..



•
4 May 08
Hi Twoey-we have babylon five here in the UK and yes that is one place I could live-it would a wonderful experiwnce to meet other species of people=not sure about marry them-but it would be an adventure to meet people from space I would be in my element!

blessings littleowl

• Canada
4 May 08
I asked my son exactly the same question a while back, I could live and treat all the species as equal to a certain extend, I don't think I could marry a lizard man, I don't even care for a human full of tatooes, to each is own but just not my type to make that physical attraction. He said he wouldn't mind at all.

• United States
4 May 08
At first I would be worried I would be claustrophic. But, that sucker was so big it would be like living in a city. The diplomatic and legal aspects (JD in 19 days, MA in international relations) would be fascinating to work with. Just trying to keep all those different groups living together without too much bloodshed, while respecting everyone's beliefs. Not that they were always successful on Babylon 5. Remember the Drazi war with the green and purple teams? Or that alien that wanted se*x with Ivanova (new way, you go out for pizza and I never see you again). I love B5. I really got to watch the episodes again. I wouldn't mind the DVDs for the extras.