Thirteen Going On Thirty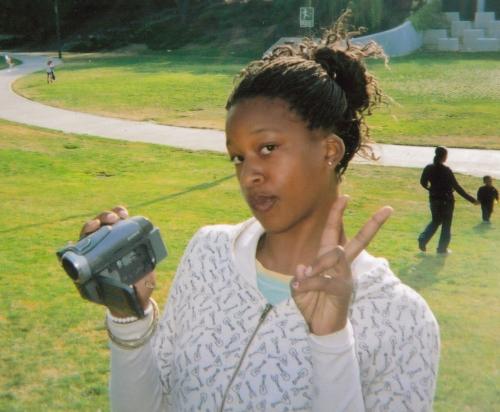 Turkmenistan
May 4, 2008 9:54pm CST
My youngest niece is 13 years old and she is a mess. When I first moved in with my sister in 1998 this child was about four years old and she was acting like she was grown then. While I lived there, she calmed down a lot. A few years ago, my sister says that she is now running the house. When I first moved in there, I was not use to dealing with spoiled out of control children. So I had a no non-sense approach to dealing with them. One night when she was four years old, she was sitting on the floor in her mother's room playing a video game. Her mother was in another room calling her over and over again. When the child did not acknowledge her mother's calling, I said, Brittany, your mother is calling you. To which she replied, wait. I repeated myself, but before I could finish she cut me off by saying, I said wait. Pop, my hand slapped her on the arm. I said, you get up right now and go see what your mother wants. She got up immediately and went to her mother whining that I had hit her. I battled with all six of those children day and night. Until I finally started realizing that these children were not the problem, their parents were. Nothing ever changed. When I would talk to my sister about it, she would laugh it off as if she did not care. Now this child is thirteen years old and the teachers at school were constantly calling my sister at work. Then they got mad at her, because nothing was changing. So they said that they would start calling her father. Things would change for a little while, but then go right back to normal. The family just recently set out to move to Atlanta and my sister was telling me how happy the teachers looked when she checked her out of school. She said that Brittany has a surprise coming because the teachers in that school only cared about their paycheck, but the teachers in Atlanta are not going to put up with it. I was thinking to myself, no they are not going to tolerate it. They are going to suspend/expell her and send her home. For some reason, my sister and her husband is looking for the schools to raise their children properly. Teachers do not get paid enough for that and it is not their job in the first place. It is the parents job to teach their children how to behave. I feel sorry for the children, because their parents are not doing them any favors by spoiling them. It is mainly my sister's husband. When they were younger, if my sister tried to discipline them, her husband would have the kids hit her. He said he wanted spoiled rich kids. Well, he did manage the spoiled part. I just hope that Brittany will see the error of her ways and change as she gets older, like the rest of them are doing. Because that child is a mess and a half. I love her too much to see her go down the wrong road.
4 responses

• United States
6 May 08
I don't know what it is with teenagers these days because all I know is if I didn't respond to my parents calling, I would get spanked. If I answered back I would get a slap on the mouth and sorts. It just wasn't tolerated in my family. Their is definitely a lack of respect not only to her parents, but her teachers and school and that isn't going to get her far. A lot has to do with the way the parents raise their children and if they spoil them and let them get away with anything and everything, then that is what you will get in return. She will one day run into someone that will put her in her place - let's just hope it's not too late if her parents haven't already started doing this - fingers crossed Atlanta was indeed a good move for all. She is going to find it hard going when she gets to the stage when she is out on her own. I hope she is able to cope in the long run.

• Turkmenistan
7 May 08
Someone will have to get a hold on her. She thinks it is cute. It wasn't cute when she was four and it is even less cute now. She is still a child now, so in a lot of ways she is still protected, but if she is still acting like this in the real world, someone is going to knock her some where. Nobody likes a child with a smart mouth. It is down right offensive some of the things that she says. It is sad because I know that my sister wants to do a better job with them. My mother was very strict when it came to manners. We knew to stay out of grown folks business. I remember when she was seven years old. This homeless man would come by every now and then and dig through the trash. Her big mouth would go running over and loud talk and embarrass him even more. "Didn't I tell you not to come over here digging in my trash no more. Go home and don't come back." Sometimes she even goes too far for the father that spoils her. I do not remember what she said to the neighbor upstairs on day, but her father yelled her name and when she went to run, he turned around and kicked her in the butt and she flew to the floor. I felt bad for her and I know he did not mean to, but she must have made him look pretty bad in front of the neighbor. It is weird because my oldest and youngest nieces are nothing like we were growing up. My sister's and I often try to figure out how they got that way. Who knows, but it is not nice at all.

• United States
7 May 08
Not nice alright. She will soon learn though as the people she meets along the way will put her in her place, and hopefully she will realise that how she is acting is not good nor nice. It's just sad that at this age she still hasn't realised that her type of behavior is not tolerated.

• Turkmenistan
8 May 08
Right now the 17 year old is staying with my brother-in-laws sister. She stayed out here so she could graduate High School with her friends, then she will be going to Atlanta. My sister just told me two days ago that she is miserable at her aunts house. She has too many rules. They are not use to having to follow many rules. At home, they had like 15 of their friends over at any given time. Her aunt told her she did not want friends running all through the house and gave her a curfew. My sister gave the aunt money to give her. The aunt is keeping it and giving it to her a little at a time. She says now that she can not wait to get to Atlanta. They don't know about structure, discipline, and curfew, no one has ever thought them consistantly. That's why I don't blame them any more. I pray that all of this changes soon.

• United States
7 May 08
When they were younger, if my sister tried to discipline them, her husband would have the kids hit her. He said he wanted spoiled rich kids
ARE YOU KIDDING ME??

omG I would NOT have put up with that for long and the only one getting smacked would be him and those kids across their behinds!! HELL NO!! And you are SO RIGHT!! it IS up to the parents to raise the kids right and teach them to behave properly..its NOT up to the schools at all..

• Turkmenistan
8 May 08
When I lived with them, sometimes it was so embarassing. When we would go to places like the mall or to church, the kids would be crawling all over the floor and talking loud. When I would say something, my sister would act as though I were over-reacting. I later realized that this is because she was afraid of her husband. I am not the type that allows a child to run over me. But sometimes you just feel so sorry for the kids that you don't want to get too upset with them. There was a time when they were much younger and I hadn't seen them in a while. My sister came to pick me up and she went shopping. I stayed in the car to talk with them and they were spitting at me and throwing soda. I was shocked, because I never would have guessed that any child in my family would act that way. My sister was raised much better than that.

• United States
6 May 08
She is a pretty girl. She also does look spoiled and looks the type to think she is all that and a bag of chips. Your are so right that her parents are not doing her any favors. It sounds like they have created a monster. I have some grandchildren and neices that are monsters. The parents are doing them an injustice. They will grow up and learn that the world does not revolve around them. When they do grow up, it won't matter how pretty they are, if they are spoiled monsters, no one decent is going to want to have anything to do with them. I guess they are really moving, I know that you have been worried about that. Lets hope that things turn out ok.

• Turkmenistan
6 May 08
You have summed her up perfectly. I remember when she was seven years old, she told me she was precious. Now she calls herself a princess. She is definitely a monster and it is really very sad. Kids today are very full of themselves and it is not attractive at all. And you are right, no DECENT man is going to want to have anything to do with her. I called her mom today and they have finally made it to Georgia. I hope that they will all turn over a new leaf and things will be better for them down there. My brother-in-law went to church this morning. I believe that all of his illnesses have scared him back to the right path. I pray that this is true.

• United States
6 May 08
Well, it sounds like he got the spoiled kids he wanted. Did he go off and get rich to fulfill the other part? I know it's hard to watch them and there is nothing you can do about it because they are not your children. I agree with you about teachers, it's not their job to displine and raise other people's children. Yet, there are parents out there that believe this. If her older sibblings are realizing how there are, then there is hope for Brittany. Of course, being the youngest doesn't help. Really, if one parent does not support the other parent, the kids will just end up using that to their advantage. Kids are smart. Hang in there, and just be there when she needs you.

• Turkmenistan
6 May 08
I believe that there is still hope for Brittany. I am counting on the move to make a difference in all of them. I hope that my brother-in-law will be happier in Atlanta and that will make him stand up and be the husband and father that he needs to be. They are beautiful children when they have structure and limits. Thank you for your response.