Gap between engagement and Marriage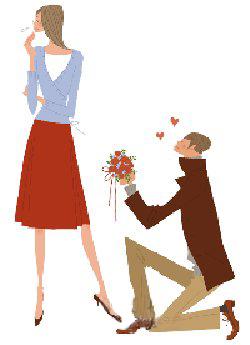 India
May 5, 2008 4:54pm CST
Every one in their life gets married some time or the other and few of them once or more. Do you get engaged every time before getting married or you just get married with out engagement and stuff. If you get engaged to a girl whom you may or maynot know, would you prefer getting married as soon as possible or would you like to take some time before getting married. If i am engaged to a girl whom i knew earlier then the marriage date or the gap between engagement and marriage is of no concern to me. Well if i am engaged to a girl whom i dont know then i would prefer to take atleast 3 months gap after engagement to get married. I want to know every thing about a girl before i marry her at the same time the girl will also have enough time to know about me. We need to have a good understanding of each other before getting married as that is going to be a life long relationship. So what do you thing? getting engaged or direct marriage. If getting engaged would you like to have some gap between engagement and marriage? If so why and how long would you take to get married. If you dont want to take that gap then is that you are in a hurry to get married or its ok for you even if both of you doesnt have that good understanding? Please do share your ideas.
5 responses

• United States
6 May 08
Not everyone gets married. And every couple is different. Some people can know each other forever, being engaged for years before getting married and end up divorced a year later. I knew my husband about 6 weeks before we got engaged. We never dated. We were friends at work then one day we sat up all night just talking (nothing romantic involved). The next night he proposed. We were engaged 7 months and 2 days before we got married (just 8 1/2 months after we first met). We have now been together for almost 9 years (in about a month) and been married for 8 years and 5 months and we have 4 kids together. It worked for us but it most likely wouldn't work for a lot of people.

• India
7 May 08
Its soo nice to know that how you got into marriage and having such a nice partner. Wish you good luck for the rest of your life.

• India
6 May 08
I think gap between engagement and marriage depend on ur and ur partner mutual understanding. If u both feels that u are now ready for handling the after marriage life and then u can marry. But i think atleast two months time should be between engagemeng and marriage as it give chance to the couple to meet without fear of society.

• India
6 May 08
Gap also depends on your marriage date, if you dont have good dates in coming few months then you will have good time to spend with your partner and try to understand each other.

• United States
6 May 08
A good rule of thumb is to wait until you have been together for a year before you get married. This doesn't necessarily mean be engaged for a year. It varies from couple to couple. Some people might be comfortable marrying someone they have only known for a couple of months, while some people prefer to be engaged for years before they get married. Personally, my husband and I were very casual about the whole thing. After three months of dating, we decided to move in together because we both felt very strongly that we wanted to spend the rest of our lives together. There was never a formal proposal or an engagement ring. I actually never had wedding rings until a year after we were married, but that was not important to me. We just decided to get married after we had been living together for almost a year. This is a decision that not everyone can make in the same timeframe or by the same set of rules. I am a practical girl and was not concerned with engagement rings or social rules.

• India
6 May 08
Its great to know about your relationship and you being so practical, thats always nice to have such a good partner to get along. Well we usually get that very few months gap between marriage and engagement since we actually celebrate it like a function. Even on the engagement day we would like to have few of the close relatives from both sides and fix the date for marriage. Its very traditional here. Marriages are some thing we really will cherish for a long time, those memories will last lost. ITs nice to find a ideal soul to be a life partner.

•
6 May 08
There's a wonderful saying 'marry in haste, repent at leisure'. It's definitely one to live by. Make sure you know the girl really well before you commit, give the relationship time to cool. All relationships go through a period of excitement when it's new and you feel that person is 'the one', but you need to go through that and into the period where you know one another really well and then see if you still love that person dearly and with all your heart. If there are any doubts then don't get married or you will regret it!

• India
6 May 08
I agree with you, both should have that love and affection before they get married. A relationship need some time to get to know each other well and build it insuch a way that they live along for a long time. Yes if there are any doubts then its better not to get married to that person.

• United States
6 May 08
First of all, not everyone gets married. Marriage is a choice, not a requirement. Second of all, why would you get engaged to someone you don't know? What's the point of that? Engagement is a promise to further a commitment that you already have with someone. I was with my fiance for two years before we got engaged. We have been engaged for another two years. We're getting married in 3 weeks. I don't see why you wouldn't have an engagement. Impetuous marriages are the fastest to fail.

• India
6 May 08
Let me be a bit clear why i may be engaged to a girl whom i don't know. We in india get married to a girl whom our parents choose for us. So obviously we wont be knowing them untill we get engaged and we start talking to each other. Yeah i do agree with you about impetuous marriages, they wont long last. Thanks for the response.